Final Days of PIFF Canceled
Impacts four days of screenings
Editor's Note: The last four days of the Portland International Film Festival sponsored by the Northwest Film Center were canceled Thursday after Oregon Gov. Kate Brown ordered restrictions on gatherings of groups of more than 250 and closed schools to slow down the spread and impacts from the coronavirus. Online viewing is an option. Visit nwfilm.org for more information. These reviews were posted earlier:
As the Portland International Film Festival (PIFF) hits its midway point, I offer some suggestions for focusing your viewing time this week (or your later online viewing):
"Advocate" is my favorite of the festival so far. It's a documentary about Jewish-Israeli human rights lawyer Lea Tsemel who has devoted her career to defending Palestinians accused of plotting and executing attacks on Jews. Tsemel is a polarizing figure in Israel; the people she represents (including, as depicted here, a 13-year-old boy accused of participating in a knife attack and a young woman accused of planning a suicide attack) are immediately labeled terrorists in the media, and many people equate defending them to defending the devil. The film follows Tsemel through her handling of those two cases, in her office and at the courthouse, in meetings with clients and co-counsel. It also explores her history as a young activist and her relationships with her two grown children and her husband, an activist whom she has also had occasion to represent. What emerges is a compelling picture of a very consistent person; as a young woman, Tsemel came to understand clearly that as a Jew in Israel she is a member of a privileged class who inevitably benefits from oppression of the Palestinians, and determined that she would do whatever she could to stand against that oppression. The film's journey illuminates how that clarity helps Tsemel put into perspective the persistently long odds she faces in her work and the ways that the legal system is rigged against her clients. Her example has much to teach about the true meaning of solidarity.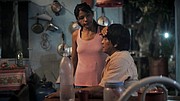 "The Fever" is a quiet but immersive look into the experience of indigenous people in Brazil. Director Maya Da-Rin, whose prior work has been in documentary films, builds her first feature film around the daily life of Justinio, a middle-aged man who has migrated to the city to work as a security guard overseeing the dispatch of shipping containers. We follow him on his long commute, witness the soul-deadening nature of his work and the racism of his co-workers, and his quiet relationship with the adult daughter who keeps house for him as she prepares to go to medical school in the distant capital city. The looming change in his circumstances that will accompany her departure coincides with a change in his Justinio's physical health; he develops an unexplained fever, as reports of an animal on the loose also stir his longing for the rainforest. In a way that befits her subject, Da-Rin builds this story more from observation than words, offering windows into the hidden depths of this man via his physical movements, his relationship with his daughter, and pivotal interactions with his older brother and sister-in-law who make a rare visit from the rainforest.