Living and Working in a White Homeland
A challenge to be heard and recognized
Ethan Johnson | 3/17/2020, 2:27 p.m.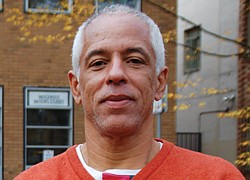 I moved to Portland in 2005 to start my job as an assistant professor in the Black Studies Department at Portland State University. I had never been to the city previously, but had visited the Salem area as a teenager because I had relatives living there. When I got to PSU, Darrell Milner, the senior faculty in the department gave me a book called Peculiar Paradise, which I read from beginning to end immediately. It helped me develop a beginning picture of the state. My primary reason for moving to Portland was that I was relatively close to my family in Oakland, Calif. I also liked that there were many outdoor activities that you could do in and around the city. I grew up backpacking, skiing and going to the beach. Lastly I liked the idea that I could be a part of a Black Studies Department. My academic work was focused on the educational experiences of Black people in Oakland and Esmeraldas, Ecuador. Esmeraldas is a province where Black people make up the largest proportion of the population and was where I conducted my dissertation research.
The thing that struck me the most upon moving here was the small number of Black people compared to where I was from. I tell my students that I had a Black dentist in Oakland. I would bet that there are not more than five black dentists in the Portland Metro area. What I have also noticed is that there are even a smaller percentage of middle class Black people in Portland compared to Oakland and the Bay Area. I would explain this as primarily due to Black people's lack of access to public sector employment, such as working in city, county, state and federal jobs that are stable and offer middle class wages. In other large urban areas across the country, Black people have been able to gain access to these institutions in ways they have not in Portland.

Numbers matter. As a result of Oregon being the only state in the Union to have in its original constitution include an exclusion law barring Black people from living in the state, few Black people saw Portland as a viable option to migrate to from the South as they did California and Washington, whose Black populations are much larger. Too, it took until 1974 for Oregon to overturn its denunciation of the 14th Amendment which provided formal citizenship to Black people in the United States. The state had passed the amendment in 1866 but then rescinded it in 1868. That sent a clear message to Black people that Oregon did not welcome them, not to mention the Ku Klux Klans' takeover of the state legislature in the 1920s. As a result, Oregon has the smallest number and proportion of Black people on the West Coast. PSU historian Carl Abott has demonstrated that because of past policies Portland is numerically and culturally white. He also shows that the small number of Black people living in the city means that they (we) have to organize differently as a result. We are much more dependent on white philanthropy and altruism than in other regions, where greater numbers bring more positive results in electoral politics, political activism and other forms of resistance, helping Black people not only gain access to public institutions, but also become primary actors within them.