Coping with anxiety during COVID-19
Mental health director has some tips
3/25/2020, 11:26 a.m.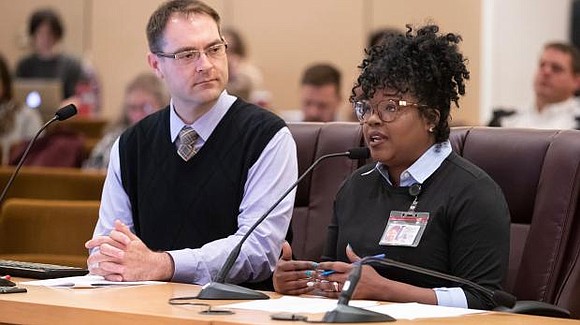 Protecting your physical health came come with getting up and going to sleep at a consistent time; eating well; moving your body by taking a walk, practicing yoga and gardening. You can feed you creative self by making art, taking photos, reading books, writing a story and keeping a journal.
Lynn Smith-Stott, supervisor for the Multnomah County Office of Consumer Engagement at the Behavioral Health Division, has been at home for more than a week. She says she's had moments of overwhelming anxiety.
Not only is Smith-Stott personally at higher risk of complications from COVID-19, she also has family living in high-risk areas of Washington state.
But she's employing her training as a social worker and skills acquired in long-term recovery from addiction and mental illness to keep her spirits up. Here are a few:
Keep a gratitude list: "I have been counting each day the things I am grateful for. I'm grateful I have a job and I can do meaningful work. I'm grateful that I'm well. I'm grateful for my family and friends," she said. "What I try to do is catch those moments throughout the day. I'm grateful right now that I'm looking out on my gardens. My wife planted flowers this weekend."
Before isolating at home as part of the state order on social distancing, Dr. Nimisha Gokaldas, medical director for Behavioral Health, traveled to Houston to bury her father.
His death prompted her to see how vulnerable the rest of her family was to COVID-19. Her sister is a family doctor, and she's also pregnant. Her mother is older and at higher risk of complications from the virus.
"A lot of people are worried about family right now," she said. "I think that's very normal."
While she works from home, Gokaldas has tried to focus her energy on the things she can control, and that includes her own health.
She takes breaks from her duties, taking the time to move and eats healthy.
"Fresh produce is what we should be eating. And there's lots of it in the grocery stores. People are buying canned food. But fresh fruits and vegetables are great. If you don't like a lot of prep work, buy precut or frozen produce," Gokaldas said.
She tries to limit the news she watches to a small portion of the day.
"I get up. I read the New York Times headlines. And that's the only time I read the news. The rest of my day is not spent checking the headlines."
She recommends reading a book and keeping up on exercise.
"It's silly, but I get up every morning and do burpees. It makes me wish I wasn't doing them, and it makes me feel incredibly accomplished in five minutes."
For mindfulness, she says "Just try a quick two-minute breathing exercise. Inhale for four seconds and exhale for four seconds. Having to count helps you focus on something else. Mindfulness, meditation, prayer. It's all the same thing. It's like gratitude practice, flipping my fear to my gratitude. Those feelings of fear are normal, but you don't want to allow yourself to sit in it."