Racism at Every Step
Victim in Max attacks blames 'white supremacy'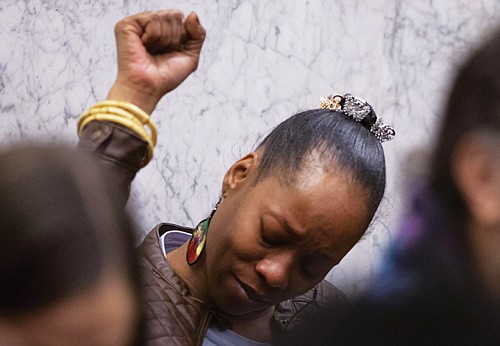 Editor's note: This story was updated to show the new sentencing date for Jeremy Christian is Tuesday, June 23.
As Jeremy Christian awaits sentencing for his deadly and racist attacks on TriMet, a brave survivor from the violence wants the community, judge and jury to understand how the legacy of white supremacy and Christian's continual taunts against his victims, people of color and other minorities, makes him a danger to society and an example of someone who perpetuates racism in Portland and the nation.
Demetria Hester was a TriMet passenger who was assaulted by Christian in a hate crime the night before his vicious knife attack on a Max train against three male passengers. Upset that he escaped the death penalty because of accommodations for his rights at trial, Hester said he should get no leniency now as sentencing approaches.
Christian will face a possible true life prison term when sentencing takes place on Tuesday, June 23 in Multnomah County Circuit Court, pending plans to satisfy COVID-19 safety and distancing requirements, court officials said.
A jury convicted Christian of all 12 charges against him after trial in February. The charges included the murders of Taliesin Namkai-Meche, 23, and Ricky Best, 53, and attempted murder for the serious wounding of Micah Fletcher, then 21 on May 26, 2017.
He was also found guilty of hate crimes for threatening to assault Walia Mohamed and Destinee Mangum, two black girls who were passengers on the train as it approached the Hollywood Transit Center in northeast Portland. In Hester's case, on the night before the deadly attacks, he threatened to assault and kill her as she rode a TriMet train in north Portland.
In an interview with the Portland Observer, Hester, a member of the African American community, said she found elements of white supremacy and accommodations for Christian's racist behavior a constant in all aspects of the case, from Christian's continual outbursts speaking hate and defending First Amendment rights, to the actions of TriMet officials, police, prosecutors and even the judge.
"White supremacy has fed into this," Hester said.
She said the first example one was the night Christian threw a bottle at her when she defended herself against his racist and deadly threats.
Christian was yelling that he was a Nazi, that he hated blacks and Muslims and Jews and was generally bellowing hate speech. After enduring that for a few minutes, Hester was the only one on the train brave enough to turn around and tell him to stop.
She said other accommodation for Christian's racist behavior came from the train conductor who was unable to stop the barrage of assaults, even as she screamed for help behind the conductor's door and the emergency call button was pushed. When Hester got off the train two stops later at the Rose Quarter, she used mace to defend herself against Christian's continued aggression. But when a Portland Police officer responded, she was questioned and treated like the criminal, she said, while Christian was left alone to wash out the mace from his eyes at a nearby fountain and then given the time to takeoff as the officer waited for backup.