Face Coverings Required on TriMet
New safety measures in age of COVID-19
5/20/2020, 11:02 a.m.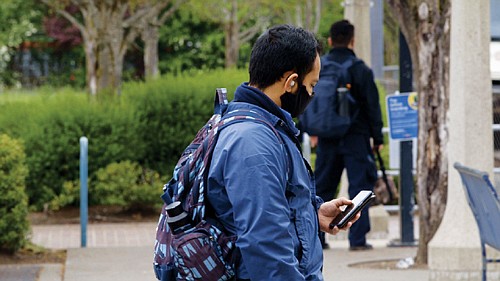 On guidance of the Oregon governor's office, TriMet announced additional actions Monday to promote safety during the coronavirus public health crisis.
"Over the last two months, TriMet has elevated our cleaning protocols, provided riders direction to stay healthy and changed procedures to increase the wellbeing of our bus operators and other front-line staff," said TriMet General Manager Doug Kelsey. "Now, as we look forward to the TriMet of tomorrow, we will step up even more. It is paramount that our customers feel safe with the transit service we provide. Gov. Brown's order helps build on everything we've done to date."
Based on the direction of the Oregon Health Authority, TriMet will now require riders to wear face coverings; install face covering and hand sanitizer dispensers inside all buses and trains; and require passengers to maintain 3-feet distancing from each other and 6 feet from the operator.
As the governor eases stay-at-home restrictions in some counties across the state, TriMet plans to increase the limits on the number of people on board, increase onboard cleaning throughout the service day, add more operator safety panels and continue to educate riders about COVID-19 symptoms and precautions.
The requirement for riders to use face coverings on transit goes into effect Wednesday, May 20. OHA also strongly recommends riders use face coverings at rail stations, transit centers and busy bus stops. This follows the guidance of the Centers for Disease Control when physical distancing of at least 6 feet from other individuals cannot be maintained.
When people wear face coverings it sends a strong message of community. It shows respect and caring for our neighbors and each other, officials said. TriMet urges riders and its employees alike to follow this requirement to help keep everyone safe.
Children under the age of two should not wear face coverings, nor should people with medical conditions or disabilities that prevent it. Face coverings should cover both the mouth and nose.