Violent Protest Turns on PSU
Comes week after chief renews pledge to disarm
11/3/2020, 3:34 p.m.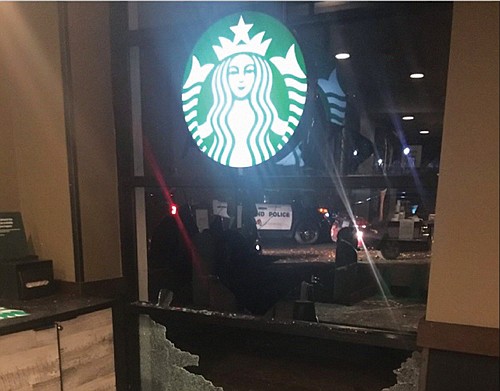 Protesters shattered windows at downtown Starbucks and at Portland State University Monday in a protest billed as a "direct action" march in the name of a Black man who was shot and killed by campus police two years ago. The violence came despite the renewal of a pledge last week from PSU officials to disarm campus police.
About 100 demonstrators gathered at Director's Park around 9 p.m. Monday and then marched to the PSU campus nearby while chanting Jason Washington, the name of the Portland father, U.S. postal worker and Navy veteran who was killed by PSU police while attempting to break up a fight outside a campus area bar in 2018.
PSU announced last Tuesday that it would not meet its fall goal of transitioning to unarmed sworn officers on campus because of the retirements of two officers and the resignation of a third, but still planned on taking the action without setting a new deadline. The killing of Washington had renewed calls to take guns away from campus safety.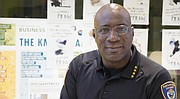 Willie Halliburton, PSU's Black public safety chief is committed to the change, saying he wants to de-escalate situations where police fight aggression with aggression, pledging to lead the nation in a new successful model of campus policing without being armed.
Police said two arrests were made during Monday's protest in which windows were broken at the PSU Campus Safety office and university's Cramer Hall and Smith Memorial Student Union.
Two nights earlier, on Halloween, windows were also broken by protesters at several businesses and a bank branch along Northeast Martin Luther King Jr. Boulevard in the Irvington and the Lloyd districts. It happened after about 150 people gathered at nearby Irving Park for a march with a tagline of "Capitalism is Scary," police said.
Under the plans to revamp public safety at PSU, unarmed campus officers will remain certified as police officers as long as they keep their training up to date, but they will no longer respond to any calls on campus that involve weapons. Portland police would respond to those calls instead.