COVID-19 Spreads Rapidly with Record Cases
Percent testing positive nearly doubles
11/12/2020, 2:45 p.m.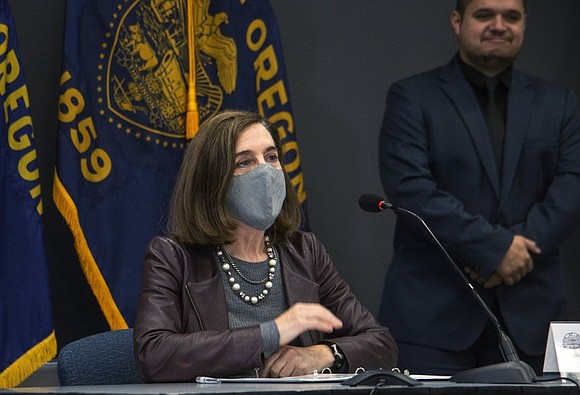 (AP) — Oregon tallied 1,122 new confirmed or presumptive cases of COVID-19 on Thursday, shattering its previous record and blowing past more than 1,000 new daily cases for the first time as the coronavirus continues to spread rapidly statewide. Four new deaths were reported.
The previous daily record was 988 on Saturday. The percent of people testing positive was nearly 12% statewide, more than double what it was over the summer months, according to data from the Oregon Health Authority. And Multnomah County, home to Portland, had 350 cases on Thursday, breaking Wednesday's record of nearly 300 cases.
A portion of the new cases this week are attributable to at least five Halloween parties, including one that had 100 guests, state health authorities said. The source of many new cases announced Thursday is still being investigated.
Thursday's report brings the total number of cases to 53,779 and the total number of deaths to 746. Between Nov. 2 and Nov. 8, the state saw a 46% increase in the number of cases over the previous week's tally, health officials said.
Several major hospitals in Portland have begun curtailing elective surgeries this week amid the surge. State health data shows that about 20% of intensive care unit beds and 13% of regular hospital beds statewide remain free — a drop from even two days ago despite hospitals bringing additional beds into service. And 290 people are hospitalized with the virus.
Three out of the five major Portland hospital systems — Legacy Health, Oregon Health & Sciences University and Kaiser Permanente Northwest — are instituting new limits on surgeries to keep hospital beds free, The Oregonian/OregonLive reported Thursday.
COVID-19 hospitalizations were up 57% over the previous week and 83% over the past four weeks, officials said earlier this week.
It can take days or weeks after diagnosis for people with COVID to require hospitalization and hospitals are bracing for the likelihood that high numbers of new cases will translate into strain on hospitals later this month and into December.
Currently, out of Oregon's 726 staffed intensive care unit beds, about 20% are available and about 13% of 4,478 non-ICU adult hospital beds in the state are available, according to state health data updated Wednesday. Those percentages are down from Tuesday, when there were about 27% of ICU beds available and 18% of non-ICU beds free statewide.
As of Wednesday, there were 27 patients with suspected or confirmed COVID-19 on ventilators statewide.
Legacy Health, which operates Legacy Good Samaritan and Legacy Emanuel medical centers in Portland, hopes to reduce the number of elective surgeries that require a hospital stay by 25%. Outpatient procedures and day surgeries will not be affected.
"We will monitor the situation and adjust as needed," Trent Green, the chief operating officer, wrote in an email to doctors and staff Wednesday. "If the number of hospitalized patients continues to grow, we may cancel more surgeries. As hospital volumes lower, we will add back elective surgeries."
Kaiser Permanente Northwest is implementing a "scheduling pause" at its eastside Sunnyside facilities and Westside Medical Center through Dec. 31.