COVID-19 Danger Now Rated Extreme
Any activity outside home deemed a risk
11/30/2020, 3:20 p.m.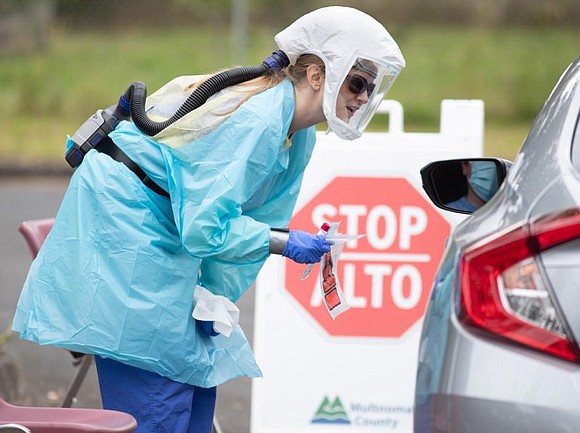 Multnomah County announced Monday it will comply with Gov. Kate Brown's new health and safety measures for Oregon counties most at risk for spreading the coronavirus.
It means that Multnomah County will move into an extreme risk category on Wednesday, Dec. 3 and impose more restrictions to prevent the disease from spreading, aligning it with the rest of the Portland Metro area and a large number of other counties.
While the new measures are part of a risk-reduction framework, any activity outside your home carries risk of spread of COVID-19, officials said. And while news of several vaccine trials signals hope, it will take well into 2021 or beyond until the risk is reduced enough to return to pre-COVID-19 behaviors, according to public health experts.
"We are still facing potential spread that can overwhelm our health care in the next few weeks, ' said Dr. Jennifer Vines, "We can all do our part by limiting how much we mix with people outside our households, regardless of formal restrictions."
Health authorities say everyone should avoid the "three Cs:" Crowded spaces where you are around many people; close contact settings where people take off their masks and have close conversations; and confined space, which means any enclosed area with poor ventilation.
Instead, people are urged to protect one another by wearing a mask indoors and out whenever they are with anyone outside their household; wash hands frequently; maintain six feet distance and open windows and doors often to improve air flow.
Multnomah County has a unique role in the state as it is home to most of the state's hospital beds, and the only specialized trauma and burn centers in the state. What happens in the rest of the state impacts our local community as people come from across the state to seek this specialized care, officials said.
"I know that Multnomah County residents are looking for clarity and certainty. Unfortunately, we are going to be in this crisis for the foreseeable future. We are constantly weighing our options as we focus on what is best for the overall health and welfare of our community.'' said Multnomah County Chair Deborah Kafoury.