Welcome to HeavyWeights BBQ
A delicious taste of home-cooked favorites
10/6/2020, 3:31 p.m.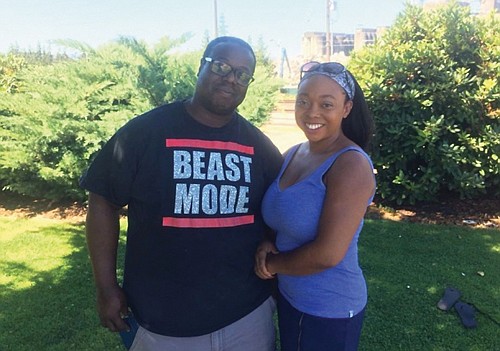 Cousins Larry Myles and Alexis Frazier have teamed up to open Heavyweights BBQ, bringing to the Portland-Vancouver market a catering company that features fulfilling southern family barbecue meals.
Specializing in tried-and-true family recipes, healthy portions, and good vibes, Myles, the chef, and Frazer, the operational guru, established Heavyweights in July, a major accomplishment for starting a business during a pandemic.
The family and Black-owned business, registered in the state of Washington, has introduced itself with recent pop-up events like the Come Thru Market in southeast Portland and two other gatherings in Vancouver.
Heavyweights BBQ offers baby back ribs, big boy beef ribs, bbq chicken, bacon cheeseburgers, meatballs and turkey tails as main meat options, all cooked on a charcoal grill and given that extra flavor in bbq smokers. Homemade sides include greens with turkey tails, yams with sweet walnut or marshmallow topping, mac and cheese and sweet cornbread

Myles said the plates are named based on the weight classes that are familiar in boxing arenas, feather weight, welter weight and heavy weight/
The business idea originated from a conversation between the cousins – as both expressed a dream to own their own business. With the helping hands of other family and friends, along with the help and direction of the Now Answer Group and Charity Brown, the dream became a reality.
Larry and Alexis ask that you stay tuned to their Heavyweights BBQ social media page, heavyweightsbbq.godaddysites.com for future events, including a Sunday, Oct. 25 pop-up event offering a full menu of items for pick up or walk up orders. You can also reach them by phone for more information at 360-619-2049.