What Next on Criminal Justice Reform?
Lawmaker, new DA to discuss approaches
10/6/2020, 2:59 p.m.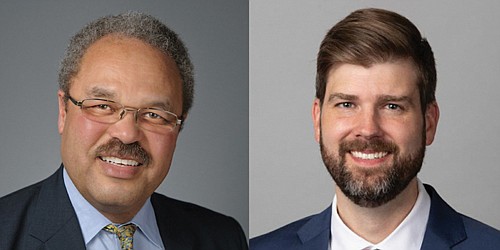 Lawmaker Lew Frederick from Portland's Black community and Mike Schmidt, the new Multnomah County District Attorney, will discuss criminal justice system reforms during a virtual forum this week by Willamette Women Democrats.
Frederick plans to talk about five police reform and accountability proposals that may be brought forward in a special legislative session by the end of this year. The ideas include restricting use of tear gas, requiring law enforcement officers to display identifying information, creating databases of misconduct and discipline of public safety employees and use of force, and restricting the ability of arbitrators to overturn police discipline.
Schmidt will discuss what criminal justice reform looks like from a prosecutor's perspective—how to best use the tools at our disposal and make data-driven decisions that increase public safety, while decreasing incarceration rates and reducing overrepresentation of people of color in the system.
Frederick was elected to Senate District 22 in 2016, after serving in the Oregon House of Representatives since 2009. Schmidt ran for District Attorney this year on a platform of bringing major criminal justice reform to Multnomah County. Voters overwhelmingly supported his vision; he won with 76% of the vote in the May primary.
The free program via Zoom will be held Thursday, Oct. 8 at 4:30 p.m. To attend ,visit the website w2dems.com. When you register, you will receive information on how to use Zoom as well as the "Zoom Meeting" link.