Anti-Asian Hate Targets School Board Candidate
Hoa Nguyen shares story to raise awareness
4/1/2021, 1:58 p.m.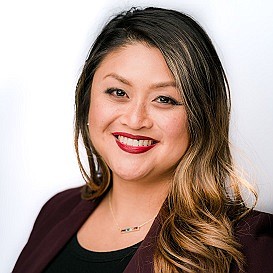 Amidst a rise in anti-Asian hate crimes nationally, Hoa Nguyen, a candidate for David Douglas School Board, was recently the target of a hate crime at her home in East Portland. Nguyen is now sharing the story publicly to raise awareness about the lived realities of Asian Americans in our community and in the public spotlight.
The crime happened at 6 a.m. on Friday, March 19th, Nguyen said, when there was a knock on her door and an anonymous racist note was left at her doorstep. The note stated "Kung Flu" handwritten in sharpie on a white piece of paper.
"My first reaction upon receiving this note was to brush it off, ignore it and go about my day. That is what we are so often conditioned to do in the face of racism. As the day progressed and I shared this incident with those close to me, my thoughts and anger started to grow, and I felt the responsibility to take action, not just for my own personal safety but for my community."
She followed up by reporting the incident to local and state authorities, including to Portland Police, the Oregon Department of Justice and the Portland United Against Hate coalition.
With the increase of reported hate incidents against Asian Americans in the Portland area and nationally, Nguyen said the last few months have been an especially trying time for the Asian American community.
"I am still processing the recent events of the mass shooting of the six Asian American women in Atlanta and finding ways to best show up for my community and myself as an Asian American woman and leader," she said. "The timing of the racist incident, as well as my candidacy for David Douglas School Board has made me feel vulnerable and that my safety has been compromised. A hostile stranger knew that I am Asian, knew where I call home, and made an effort to leave an offensive note."
Nguyen said the incident points to a lifetime of racial trauma for many people of color, including students and youth of color who have to endure bias and micro aggressions in and out of school.
"How many times have we swept micro aggressions and bias under the rug to make racists and the status quo feel comfortable? I realized how much we have normalized this behavior of hate towards communities of color. Hate crimes aren't just about physical safety, but our mental wellbeing and the value we have to our community," she said. "We are not providing the tools s and safe environment for our young people to address these injustices."
Nguyen is a second generation Vietnamese-American child of refugees. She graduated high school and college in Oregon and has spent her career serving public schools students and families, most recently as a school attendance coach in Portland Public Schools.