Tubman School Could Move for I-5
School district and governor eye solution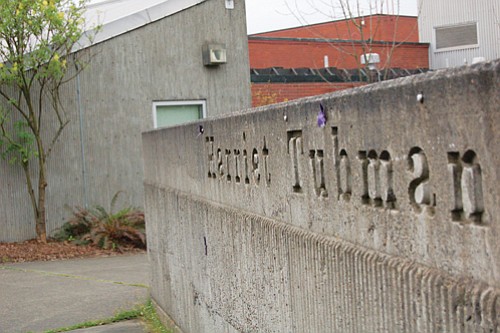 Moving Harriet Tubman Middle School to another location because of air pollution impacts has gained traction with new demands from the Portland School Board and an endorsement of the idea from Gov. Kate Brown.

The school which has historically served Portland's African American community from its perch above I-5 had $10 million in heating and cooling equipment upgrades to mitigate toxins from air pollution a few years earlier as it established the only middle school serving the Black community in Albina, but now faces added environmental risks with plans to expand the highway at the Rose Quarter.

Former School Board Chair Julia Brim-Edwards updated the panel last week on the history of the site and presented a district resolution demanding that the Oregon Department of Transportation (ODOT) compensate the district for past negative impacts for building a freeway alongside the school initially and to pay for the relocation of Harriet Tubman if it moves forward with plans for widening the freeway.

The current board then passed the resolution unanimously, led by current Chair Michelle DePass, a lifelong member of Portland's African American community, and two new members of the Black community elected last May.

Brim-Edwards told the Portland Observer that she has spoken with Gov. Brown about the district's concerns and the governor indicated she supports moving the school.
 
A spokesman for the governor recently told the Willamette Week that Brown finds the air quality and health impacts to students at Harriet Tubman to be very concerning and she supports the state paying for moving the school regardless of what form the Rose Quarter project takes.

The cost to move the school is estimated at $84 million, not including the 6 to 9 acres of land needed for the new site which the district would want to remain in the Albina community, Brim-Edwards said.

The school district resolution also gives support to the Albina Vision Trust and the Black community to reclaim the Albina community as a center of African American life in Portland in a push similar to the district's desire for equitable access to public education, a key component of the civil rights movement and the fight for racial justice.

Brim-Edwards said she is encouraged that the I-5 project could be a "win, win, win" for the district and the African American community because ODOT has recently concluded it might be able to add caps to the freeway at the Rose Quarter to support Albina Vision's plans for new housing and commercial activity for the area, and the project could also move forward with the jobs promised to minority contractors and workers from its construction, a major desire for the community.