A Worthy Production for Live Shows Return
"Fannie: The Music and Life of Fannie Lou Hamer"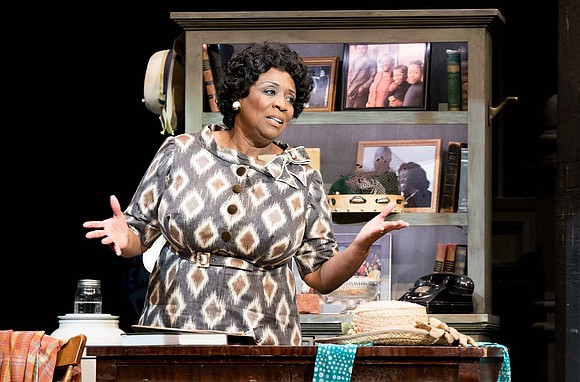 In-person performance has been one of the casualties of the past 18 months of a global pandemic—theater and music venues have been shuttered, and artists have been left to create however they can, generally without a live audience or any audience at all.  Those of us who register the impact that theater and other forms of live performance often have in getting past our collective defenses to open minds and hearts know that the loss is larger than it might appear.
 
The need for innovation persists in this wobbly time of recovery, but the Oregon Shakespeare Festival has chosen a worthy vehicle for its return invitation to live audiences:  "Fannie:  The Music and Life of Fannie Lou Hamer."

Hamer lacks the notoriety of many other civil rights icons; the most visible leaders were young men, and Hamer joined the movement as a middle-aged woman, having spent decades as a sharecropper and having first realized she had a right to vote at age 44.  What she did with that realization over the last 15 years of her life, though, puts any of our struggles into perspective if we'll let it.  She weathered beatings, attempts on her life, minimizations, and betrayals, and yet spoke out relentlessly for the simple human dignity of the Black community, whose struggles she knew all too well.  One could not hope for a better teacher on how to find the gifts in adversity, and how to live a life relentlessly committed to the truth.

Playwright Cheryl West developed the play with actress E. Faye Butler in mind (Butler plays Hamer at OSF through August, and then able OSF veteran Greta Ogelsby will assume the role through October 9).  Before its OSF run, the play took various forms through the pandemic.  Working with Butler and director Henry Godinez (who also directs OSF's production), a shortened version of the play was mounted in the summer and fall of 2020, in parks in Chicago and various other cities, in support of voter registration efforts. OSF's production occurs in its outdoor theater, and has already been riding the pandemic waves; early shows had audience members distanced and masked, while I was lucky enough to be there a few weeks after opening during a period when audience members were unmasked and seated closer together.  Beginning this week, audiences will again be masked and, for the entire run so far, audience members have been asked to show proof of vaccination or a negative COVID test.  (Check osf.org for the latest safety protocols.)

All of this quickly fades once the play delves into Hamer's telling of a life that require more resiliency than most of us can conceive of.  Hamer was a powerful speaker and used music to move audiences to the sort of courageous action that characterized voting rights protests in the 1960s and 70s—and she does so here too, speaking simply but clearly about her choices and her assessment of the stakes.  The play sent me to YouTube to find videos of Hamer and, as I suspected, the play invites its lead to channel Hamer's way of moving through the world.  She is a prophet, a person with a deceptively simple but also exceedingly clear read on what must be done and why extreme sacrifice is called for. 
 
As Hamer apparently did in life, Hamer in the play frequently invites audiences to sing along with her through spirituals that, in life, were meant to rouse people to the clarity that she already had about needed action.  Sitting in the outdoor theater at OSF in a predominantly white audience, I was struck by the differences in time and context for a Fannie Lou Hamer to be rousing us to action; I also wondered if people notice that the play can be taken as a vehicle for that very thing.
 
This production, birthed during a time of struggle, is best received and internalized as a call to action. I hope audiences will come prepared listen, to embody through singing, and to experience Hamer as a teacher and guide with real wisdom for this current moment.
Darleen Ortega is a judge on the Oregon Court of Appeals and the first woman of color to serve in that capacity. Her movie and theater review column Opinionated Judge appears regularly in The Portland Observer. Find her review blog at opinionatedjudge.blogspot.com.