Challenging Conventional Thinking
Play documents life at the margins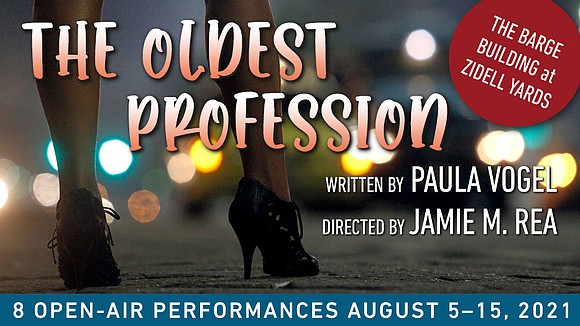 Like all Portland theaters, Profile Theater was forced to shut down live performances early in 2020, part-way through its exploration of the work of acclaimed playwright Paula Vogel.  Having forged along for the last year-and-a-half with various other performance offerings (including audio plays and a filmed production), Profile has chosen a challenging but somehow fitting Vogel offering for its return to live in-person performance—a production of "The Oldest Profession" in an improvised urban space.

Vogel is attracted to stories and situations that grieve and challenge us—incest ("How I Learned to Drive"), AIDS ("The Baltimore Waltz"), how marginalized communities grapple for identity in relation to the dominant culture ("Indecent").  In "The Oldest Profession," Vogel invites us to spend 90 minutes with a group of elderly sex workers who have labored in community together for half a century.  The layers of marginalization are noteworthy—sex workers, older women, those living off the grid without access to a social safety net.  Indeed, the cast members are actresses past bankable age, themselves marginalized among performers.
 
The play has struggled to find an audience over the years.  Vogel wrote it early in her career, at the beginning of the Reagan era when public will to examine life at the margins or to question American myths like meritocracy and trickle-down economic justice were at an all-time low.  Like much of Vogel's work, this play stands outside conventional thinking, and enlisting older sex workers to embody its critique of that thinking hasn't improved the play's odds of a warm reception.

Vogel revised "The Oldest Profession" 25 years after she wrote it, and it has had a few productions since then.  But a survey of the reviews of those productions suggests that an enthusiastic following continues to elude the play.  Though I don't find it to be the strongest of Vogel's works, I also think that American culture (at least as reflected among theatergoers and critics) hasn't yet evolved enough to join Vogel in noticing and caring about what the experiences of marginalized people have to teach us about structural oppression and resilience.  

The reasons to notice and care have, of course, always existed, but the pandemic has accentuated them.  Some of us may cloak our confidence in American meritocracy and capitalism better than in the Reagan era, but we may still tend to view our houseless neighbors, for example, as having made poor choices, and not be able to conceive of how their choices may connect to our choices or to benefits that we are enjoying.

Vogel's attention to elderly sex workers is specific and canny. Their view of men with money at the top of the social hierarchy is from a place of intimacy; their choices and the way they discuss them reflect more of a sense of agency than we would tend to assume.  Even while Vogel's rendering may put them into types—motherly, bossy, fun-loving, doddy—we are still seeing more of a variety of older women's experience than we typically get to see on stage.  We also see that their options for agency are both more varied than we might expect and yet also severely limited.

Profile has mounted this production at a reconfigured Covid-safe space on the South Waterfront that has been dubbed Old Moody Stages, a collaboration between Profile and Portland Opera, Dance Wire, and Portland State University. The space was formerly the Zidell Yards and retains an industrial feel that suits the material. Vogel invites us to sit on a park bench with her cast of older sex workers, and this production invites us into an improvised, partly outdoor space, which may assist us in thinking outside our usual configuration. A solid and diverse cast makes it easy to see and understand these women as vibrant and resourceful and sexy. 
 
All theater benefits from the attention audience members bring to it; I hope audiences will bring to this production, which runs through Sunday, Aug. 15, an intention to think about all the places where beauty is found, including where we don't look for it, and how the fates of the privileged and the forgotten are intimately connected in ways we often miss.

Darleen Ortega is a judge on the Oregon Court of Appeals and the first woman of color to serve in that capacity. Her movie and theater review column Opinionated Judge appears regularly in The Portland Observer. Find her review blog at www.opinionatedjudge.blogspot.com.