Shopping to Make an Impact
Holiday markets support Black community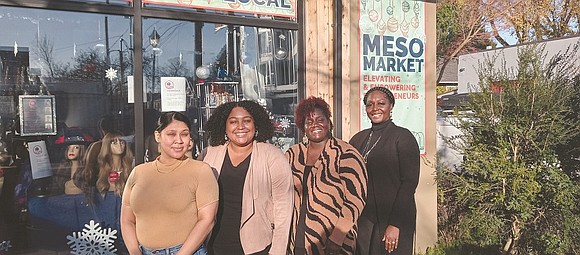 Businesses traditionally rely on Christmas sales to increase their bottom lines, and minority-owned businesses have been hit particularly hard by the Covid pandemic.

To give entrepreneurs of color an added boost this year, several holiday markets aim to give minority vendors more exposure while giving shoppers plenty of options for buying holiday gifts.

An innovative approach by the nonprofit Micro Enterprise Services of Oregon, or MESO, for example, is bringing the products of 14 local, minority-owned businesses to a formerly empty storefront at 1237 N.E. Alberta St., now through Dec. 24, from 11 a.m. to 7 p.m., Tuesdays through Saturdays.

Since it was founded in 2005 by the Black United Fund, MESO has helped thousands of small businesses through its five area offices with services that include classes on financial education and wealth building, developing business plans and more, said MESO business development specialist Jataune Hall.

"We provide hands-on technical assistance, whether they are up and running or planning to open, but also lending opportunities," Hall said. "Most banks won't take on startups, but we do. We work with them so they can open or storefront or go online."

MESO has businesses offices in Portland, Gresham, Clackamas County and Vancouver.
"We walk them through the process to figure out how to grow and prosper and help them acquire generational wealth," Hall said, but it's been a tough year.

"It's been a huge challenge, and holiday time for vendors is usually a time to grow," she said. "So we decided, let's create something and help vendors out. They can use our website (mesopex.org) so people can buy online."

The MESO holiday market has restrooms and hand sanitizer stations. Children are welcome, especially to meet Black Santa Claus, who will continue to make appearances for kids of all ages over the next two Saturdays, from 11 a.m. to 7 p.m.

The new market is attracting a lot of attention, Hall said.

"People are already reaching out through our newsletters, and people are calling to ask if there is any more room," she said. Any questions about availability should be sent to mesomarket@mesopdx.org, she said.

Hall said one cool thing about the Alberta Street location is that one of MESO's clients, LaTina's Style of Elegance, a seller of quality handbags and accessories, will move into the store permanently sometime later.

"It was a vacant space until we moved in and has been a work in progress for a while, but we're holding it for LaTina's, currently a home-based an online business but one which also has a mobile boutique bus which was converted into a shop that can go to different events," Hall said. "And our goal is to have it parked in front of the storefront as well."'
Another holiday market is Mercy Corps Northwest's annual online shopping event, Northwest Made Holiday Market, which started Nov. 26 and will continue through Dec. 30 and can be accessed at shopnorthwestmade.org.
More than 100 businesses owned by "historically marginalized entrepreneurs" from across Oregon and southern Washington are featured and product offerings range from food and drink to plants, art and jewelry.
Lynn Renken, executive director of Mercy Corps, said in a news release that support for local small businesses is vital to their survival.

"It is more important than ever that we shop to support local entrepreneurs and help keep their shops open and keep money in our local economy," she said.
Prosper Portland, the city's economic development arm, is also presenting its annual My People's Market with choices to order online or shop in person from minority and women-owned firms. A My People's Market Window Shop is located at Southeast Ninth Avenue and Yamhill Street, featuring gifts from local BIPOC business owners where shoppers can shop the window, scan the code and buy online.

An in-person marketplace for My People's Market will continue over the next two Sundays, Dec. 12 and Dec. 19 from noon to 6 p.m. at The Redd, 831 S.E. Salmon St. The shopping days will feature DJs and daily entertainment with a headline performer each market day.

For a list of vendors at MESO's holiday market, go to mesopdx.org/mesomarket..
--Beverly Corbell