Elevating Justice in Portland
New DA defends policies; says Black lives matter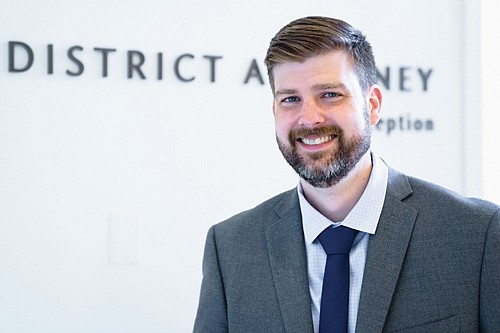 Multnomah County District Attorney Mike Schmidt was elected as a racial justice reformer last May, just a week before the death of George Floyd at the hands of police in Minneapolis. He started the job early, in August, when the current officer holder stepped down. The top law enforcement official in the county has had his hands full ever since.
Nationwide demonstrations and social unrest were more than pronounced in Portland this summer following Floyd's death, putting a spotlight on the city as massive demonstrations gathered, night after night, protesting police violence and other racial impacts in the criminal justice system.
Schmidt ran a platform to address racial disparities in prosecutions and police accountability, but has came under criticism for letting some protesters arrested for non-violent offenses get "off easy." He has defended the civil rights of peaceful protesters, saying they delivered a lesson to law enforcement and the public that should have been learned decades ago: That black lives matter.
"They matter even when the movement for racial justice drifts from the daily news cycle. They matter when we're distracted," Schmidt said in a recent speech. "They matter when those of us with power to do that hard work of making them matter. I will carry with me those values that those words represent every day of my administration."
As DA, Schmidt is charged with prosecuting crimes, but he says the criminal justice system has adhered to many wrong policies, like mandatory sentencing, the war on drugs, its effects on people living in poverty, and those with addictions.
To correct those policies, Schmidt has pledged to form a Conviction Integrity Unit in his office, to look at the effects of the criminal justice system after conviction and sentencing.
"Everybody knows that justice doesn't end there," he told the Portland Observer. "There is justice for victims, but also for the person prosecuted."
Even after a person convicted of a crime has served his or her time, there are many barriers to fully re-entering society, Schmidt said.
"We can help with reducing barriers, like forgiveness of fines and fees that trap people in cycles of poverty. We really need to move forward and help families," he said.
In keeping with his belief that black lives matter, Schmidt said there has been progress in civil rights, but that we still have a long way to go. He pointed to work he had with leaders like the late state Sen. Jackie Winters, a Black representative from Salem who built her roots in business in Portland, to look for solutions to systemic racism.
"This summer drove home for me the fierce urgency we all need to feel around this work, but there is more left to do," he said.
Schmidt, who served as a deputy district attorney in Multnomah County for 12 years before taking on the top job and served as executive director of the Oregon Criminal Justice Commission, said Conviction Integrity Units are being used in 45 jurisdictions across the country to improve racial justice outcomes.
According a draft proposal for its creation here, "CIUs are well-established vehicles for reviewing and, when necessary and appropriate, seeking to overturn convictions when there is evidence of actual innocence, prosecutor or law enforcement misconduct, or other considerations that undermine the integrity of the conviction."
The CIU as Schmidt proposes will add a deputy DA to work on questionable convictions, and a second one to work on expunging records of eligible people and look at fine and fee forgiveness where appropriate.
Schmidt said the unit will also pursue legislative changes to allow petitions to bring people back to court for re-sentencing, allowing the accused to have their sentences reviewed "when they are no longer necessary for public safety and are needlessly long or punitive."
The proposal also includes hiring one paralegal and bringing in law students to help with the extra work, as the draft proposal states, "to promote the concept that the work of pursuing justice for a prosecutor does not stop at sentencing, but continues on in the pursuit of maximizing legitimacy for public safety."
Schmidt said he is also working with Portland Police Chief Chuck Lovell to look at ways to make the criminal justice system more accountable.
"I want to build trust and accountability in the system beyond a conviction and a sentence," he said.
But that doesn't mean Schmidt is soft on crime.
"No amount of property damage or violence is acceptable," he said.
Schmidt is also concerned with excessive juvenile incarceration, pointing to the negative impacts of mandatory sentencing laws as another impetus for the creation of the Conviction Integrity Unit.
In his recent speech, he referred to a clemency petition from a young man who committed armed robbery as a teenager, and who in the many years since has completed every rehabilitation program available to him. It pointed to someone that will have to spend the last months of his incarceration in an adult prison under current laws, which Schmidt says is just wrong.
He went on to say "Multiple studies have shown that a juvenile who enters the adult system is immediately vulnerable to violence and pro-criminal peer pressure. For this young man, the sentence not only fails to fit the crime, it may make us all less safe."
Schmidt said that before going to law school, he taught high school in New Orleans for two years and observed the "school-to-prison pipeline" first-hand, which opened his eyes and expanded his perspective on justice issues.
According to the Annie E. Casey Foundation, there are 60,000 young people sent to jail by juvenile courts, with nearly half in long-term correctional facilities. "There's compelling evidence that locking up low-risk youth offenders doesn't reduce further offences," the foundation website states. "It wastes taxpayer dollars, and exposes young people to high levels of violence and abuse."
Because studies show that Black children and other children of color are more likely to be disciplined and expelled from school, they become fodder for the prison pipeline. According to the Equal Justice Initiative, as of 2015, African American young people comprised 44 percent of juvenile prison populations, while they are only 16 percent in the general population.
"New Orleans it was very eye-opening, to see that criminal justice system, and growing up, what it meant for me — a white kid in upstate New York — not getting worked up about the principal calling police on me," Schmidt said. "It was just detention."
--Beverly Corbell