Intel Oregon Renews Social Justice Pledge
Makes commitment to strengthen communities
2/9/2021, 2:10 p.m.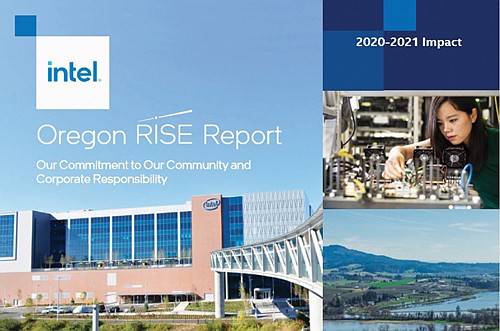 Intel Oregon is renewing its commitment to strengthening communities by being a responsible corporate leader, including supporting social justice in Black and other minority communities.
Headquartered in the Portland suburb of Hillsboro, Intel Oregon is the home and heart of the company's research and development. While its reach is global, its success depends on healthy, inclusive Oregon communities, company officials said.
In a new Intel Oregon RISE report, the tech giant describes their record of hiring from local schools, community colleges, and universities; investing in addressing our community's needs; and spending billions each year with Oregon-based businesses.
"We know our success depends on our meaningful connection to healthy, inclusive Oregon communities, so we've included highlights in this Oregon RISE Report about investments we're making in Oregon's innovative job creators, STEM education, tech equity, social justice, renewable energy, habitat restoration and more, said Courtney Martin, Intel's Oregon public affairs director.
"To us, leadership in business and social values matters. That's just another reason why we're committed to working with others to create a better, more inclusive and sustainable recovery right here at home," Martin added.
To read the full Oregon Rise Report and the many stories of Intel's community commitment, and to let them know what you think, visit intel.com/content/www/us/en/corporate-responsibility/oregon-rise-report.html.