Cold Gives Way to Big Melt
Storm left large blanket of snow and ice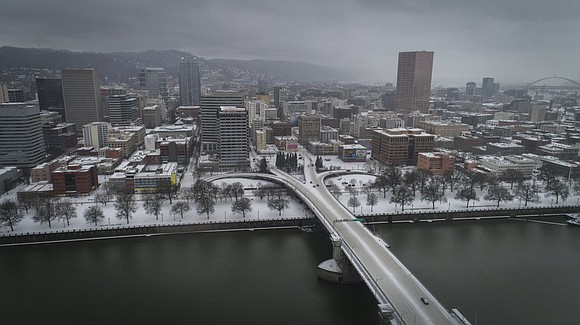 The Portland Metro area was still digging out Tuesday after a record winter storm left a large blanket of snow and ice. The National Weather Service said just over 10 inches of snow was recorded from the weekend blast of frigid cold.
Back to normal February weather was forecast for the next few days, with temperatures above freezing during the day and only near freezing at night when under clear skies in some outlying areas. Rain is forecast for later in the week and weekend.
The storm caused widespread damage, mostly from downed trees caused by freezing rain. Thousands were without power with utilities working around the clock to restore service. In Troutdale, snow and ice caused a section of a roof to collapse into a grocery store Sunday afternoon. Authorities said one minor injury was reported.
TriMet said all MAX lines were running Tuesday morning, and while some bus lines were on regular service under normal COVID-19 restrictions, others were cancelled. Officials said riders should expect delays and should check trimet.org/alerts.
Oregon Gov. Kate Brown, who over the weekend declared a state of emergency for the greater Portland area, urged people to avoid roads because of treacherous conditions.
-Associated Press contributed to this story.