Street Team Dispatched
First calls taken for non-police crisis unit
2/23/2021, 12:41 p.m.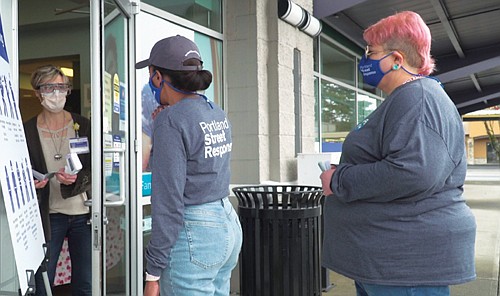 The pilot Portland Street Response team, an innovative non-police dispatch to assist people experiencing houselessness or a behavioral/mental health crisis, has hit the streets for the first time. It happened last week as soon as the team started taking calls dispatched from 911.
The team includes a program manager, a firefighter/paramedic, a mental health crisis clinician, and two community health workers. Each member trained for the past month to prepare for calls. The team has been walking the Lents neighborhood since the beginning of the year, the pilot location, to introduce themselves to business owners and community members.
Lents was designated as the pilot location because it is not supported with as many existing resources and services. Additionally, the volume of mental and behavioral health calls in Lents is outpacing the growth of similar calls in other parts of the city.
"We all agree we need new and better responses to people suffering mental health crises. Portland Street Response embodies and implements that agreement," said Mayor Ted Wheeler. "People in crisis and people who call 911 will be better served by this new option. Every call the Street Response team answers allows Police to respond to other high priority calls. The launch of Portland Street Response is a win for Portland," he said.
Commissioner Jo Ann Hardesty, Portland's fire commissioner and an early champion of the Portland Street Response concept, said "The community asked for a non-police response to calls that don't require an armed police officer on site and we're delivering. I couldn't be more excited to see this team in action and to learn from this pilot period about how to make this program the best it can be."
Hardesty added, "It's rare in modern times for a new branch of a public safety system to be created from scratch. It's rarer still for a city department to be built by the people who will be beneficiaries of the program. After many months of methodical outreach, consultation, and construction: we're ready. For community members living on the streets, this program could not come soon enough. People caught in the trap of a criminal justice system that ensnares them for simply trying to survive demand change, neighbors and family members demand change, and the first responders who need to be focused on high-level calls for service demand change. This first step toward change is here."
According to Fire Chief Sara Boone, who is the first Black woman to lead the department, the fire service has had to be nimble over the years to respond to the ever-changing needs of the community.
"Portland Fire & Rescue is proud to help launch Portland Street Response and we're thankful for the hard work put in by our staff on this vanguard program," she said. "We're excited to learn more from this pilot period and see how this much needed service can serve the whole city. This latest chapter of the first response story is historic, and we thank all of our partners who joined together to make this moment happen."
The Street Response Team initially will be available in Lents, Monday through Friday from 10 a.m. to 6 p.m. After six months, a second team will be added to cover the same area and to expand services to nights and weekend. By 2022, the program will ramp up to include more teams and coverage to locations across the city.