Advancing Justice, Equality
Meyer Memorial Trust leader on MLK, new headquarters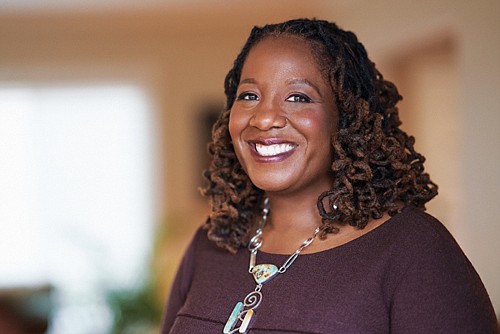 "Injustice anywhere is a threat to justice everywhere."
The words of Dr. Martin Luther King Jr., penned from his 1963 Letter from a Birmingham Jail, have been an lifelong inspiration to Michelle J. DePass, an esteemed Black executive overseeing the Meyer Memorial Trust, one of the largest private funders of community advancement initiatives in the state.
DePass helped the Trust put down permanent roots in the historically Black Albina community of north and northeast Portland this fall by opening a new constructed headquarters to advance a Board mission to create a transformative future in Oregon, one where there is more economic opportunity for people of color and less hate and injustice.
DePass will begin her third year as president and chief executive officer for the organization this April.
"MLK was a beacon of life for me," she told the Portland Observer, describing her life as a community advocate for change and the impact the late civil rights leader had on her. DePass previously has served as civil rights lawyer, environmental justice advocate, community organizer and former assistant administrator for U.S. Environmental Protection Agency under former President Obama.
As a young Black woman, she was inspired by Dr. King's advocacy for the economic empowerment of Black Americans and other people who struggle to survive and prosper. Now advancing equality is work she and her staff of 40 employees conduct through the Meyer Memorial Trust.
"We cannot be free until we have opportunity," she said, echoing the words of the late civil right s leader and reflecting on his legacy as Portland and the nation approach the Martin Luther King Jr. National Holiday on Jan. 18.
The Meyer Memorial Trust is now firmly allied with powerful allies in private and governmental affairs who acknowledge that injustice in Oregon is founded on historical anti-Black and anti-Indigenous bigotry.
This summer, for example, the Trust embarked on a new "Justice Oregon" plan to advance racial justice and equity in Oregon by allocating$1.3 million to local Black-led and Black-serving organizations, part of a five year, $25 million commitment to fight injustice by making strategic investments in the lives of Black Oregonians.
The funding initiative came in the wake of two months of nationwide demonstrations in response to the death of George Floyd, a Black man who died after a white Minneapolis police office knelt on his neck for nearly 8 minutes.
The Meyer Memorial Trust was established in 1982 from the estate of Fred G. Meyer, the founder of the one-stop Fred Meyer stores of Portland lore. Over the course of its history, the Trust has awarded over $800 million to more than 3,470 community organizations.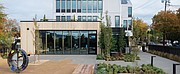 The new Meyer Memorial headquarters, located at 2045 N. Vancouver Ave., is both a testament to advancing economic and environmental justice and the story of the late Fred Meyer himself, who founded his grocery empire as a German immigrant and lived and worked in the same Albina neighborhood while leaving a legacy of promoting the community.
The new building was developed and constructed under rigorous goals for minority and women-owned business participation, DePass said, and used the latest efficiencies for energy use and building materials, like next-generation wood products made in Oregon. The headquarters is in line to receive LEED Platinum certification, the highest rating possible for environmental innovations, she said.
DePass is proud of the diverse workforce that benefitted from the project. She said about half of the construction workforce budget went to women and minority-owned subcontractors, while 30 percent of the journey people and apprentice hours on the project were filled by minorities. Additionally, 80 percent of the sub-contractors on the site were either women and or minority-owned businesses, she said.
At a cost of $10 million, the 19,829 square foot headquarters was also designed to serve as a resource to further support and invest in communities across the state.
The ground floor, for example, houses a "Center for Great Purposes" to foster greater collaboration with the public, a gathering space for up to 100 people. A "Mission Library' features inspirational quotes from leaders, including Fred Meyer, and showcases a collection of fiction, non-fiction, poetry and scholarship that touches on aspects of diversity, equity and inclusion.
The property's landscape uses native plant species selected due to their historical significance as a primary food, medicine or commodity resource for Columbia River tribes.