Mapps Calls on End to Violence
Promotes a peaceful fight for racial progress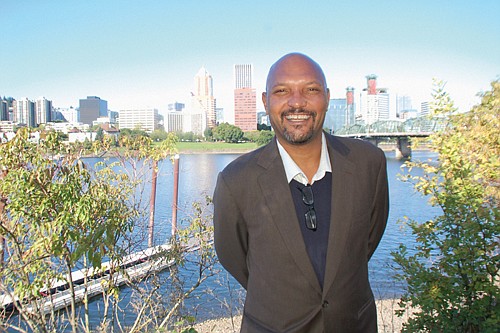 Mingus Mapps, just the third Black man elected to serve on the Portland City Council, is sure of one thing as he starts his four year term in the same month we celebrate the birth of America's most prominent civil rights leader, the late Dr. Rev. Martin Luther King Jr.
Mapps wants the ongoing fight for racial progress in Portland to follow King's lead by being non-violent.
"Dr. King has been on my mind a lot lately on the occasion of his 92nd birthday, and I know I wouldn't be here if not for the sacrifices Martin Luther King made to make America a better country," Mapps told the Portland Observer.
He said when it comes to civil rights and violence on our streets, King's message is more important than ever.
"Last year Portland was transformed by violence, between the police and protesters, and the murder rate is up," Mapps said. "Every weekend, business districts are vandalized and we have a plywood canyon downtown. If you do anything political online, you receive death threats, even at home."
The new city commissioner promised that in his first 100 days of office, he will be devoted to promoting more peace in the city.
"Violence leads to destruction and despair and deaths too often, but fortunately, we also have the politics of love," Mapps said. "One of the things I'll be doing is challenging the entire city to embrace the politics of nonviolence, the politics of peace. If we come together and listen with open hearts and open minds, we can make progress on COVID, civil rights and policing, but until we listen to each other we will never be able to combat things like homelessness or violence."
Mapps won a November election in which he faced some arguments by opponents that he would be too soft on police because his candidacy was endorsed by the Portland police union, an organization which has also come under sharp criticism for supporting officers accused of undue violence.
He defeated City Commissioner Chloe Eudaly, his former boss at City Hall, who told Oregon Public Broadcasting that Mapps' win and the re-election of Mayor Ted Wheeler doesn't reflect Portland's progressive spirit and was "a step backward for progress."
But Mapps disputes that characterization, insisting that 2021 will usher in a new era of politics with more cooperation.
"I'm not claiming it's going to be easy, but I very much believe we can build a better city if we work together," he said. "The progress that Portland has made is always doing what Portlanders do well — building a table to work together to build a better future."
One of Mapps' first moves in city government will be to introduce the annual resolution celebrating Dr. King's birthday, he said.
"I hope this is the beginning of a reflective time in our city, a perfect time to think about the politics of peace," he said. "Two weeks after Martin Luther King's birthday, we'll be celebrating Black History Month, another opportunity to think about where we're going as a city, and I hope that as we head into March we really begin to put some concrete proposals for the city to bring down the violence."
Portland's murder rate nearly doubled last year, Mapps said, and we've "given up a generation" to gun violence. He said he plans on working closely with the mayor and Commissioner Jo Ann Hardesty, a frequent critic of Portland police tactics, to bring down the violence in downtown and reduce the murder rate that has spiked, particularly in east Multnomah County.
"I know the mayor cares deeply about this and we have already begun discussions on moving forward with concrete proposals," he said.
Along with reducing violence and police reform issues to address, Mapps said the mayor has appointed him to head up the water bureau, environmental services, sewer department and 911 communications. He also was just assigned to oversee the Bureau of Hydroelectric Power, which manages decommissioned dams.
"It's an enormous obligation to deliver all these services," he said. "But the great thing about (city) staff is that they're motivated by challenges, have high standards and good delivery of basic services at equitable prices."
Mapps sees the pain of city businesses struggling to stay open because of COVID-19, but said we still have to think about protecting natural resources.
"We also need to re-imagine what an essential worker is," he said.
On MLK's legacy as a civil rights champion, Mapps said, he wants "to help people reflect on the lessons of King's work. It's incredibly importlant."