Rep. Janelle Bynum on fight for Racial Progress
Says much needs to be done to fulfill Dr. King's legacy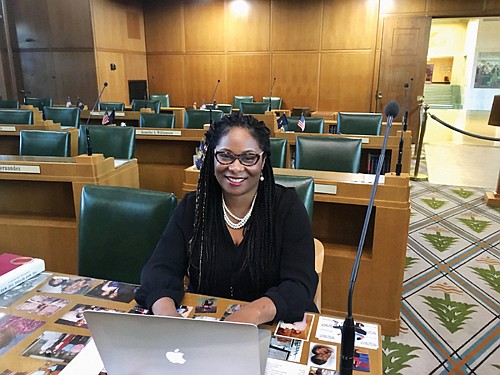 State Rep. Janelle Bynum, a Black lawmaker who recently campaigned for House Speaker in a bid to bring racial equity issues to even greater prominence in the Legislature, has backed off her bid to take over Rep. Tina Kotek's leadership post as the New Year began, but she tells the Portland Observer that will not impede her efforts to push to enact legislation to make Dr. Martin Luther King's dream for racial equality closer to reality both for her constituents and all Oregonians.
Bynum, a Democrat, represents House District 51, which includes many communities in east Portland, including Clackamas, Gresham, Damascus, Boring and Happy Valley.
She said progress has been made for Black citizens over time, but more remains to be done, and with a greater focus on direction and purpose.
"We need to be much more strategic about where we put our energies," she said. "I saw people marching this summer in the streets, but real change is in the courts, city councils and the Legislature."
Bynum said she feels a personal obligation to do whatever she can in state law to reduce gun violence and end the grief of mothers agonizing over a child's death, whether it's from person to person violence, police violence or from incarceration.
Bynum said she was inspired recently when she re-read the late U.S. Rep. Shirley Chisholm's 1972 presidential candidate speech.
"There is so much in there you could lay over today," Bynum said. "She was fighting for inclusion, to make sure children were not hungry, that they were educated, the same outcomes we are fighting for today.
"Those are the things I care about, and one of the biggest, my deepest mission, is to make those changes that would bring about Black joy and Black peace," she said. "People want to go back to the way things were — peaceful — but I want to remind them that it never was that way, it was the peace that other people have. We are seeking the peace we've never known."
Bynum said it's important for children to be educated about Black history, not just for their own sakes, but for the sake of the country, she said, so we can build a foundation for progress.
"One other thing. It is important for us to understand the rules — they weren't written for us," she said. "So when the Portland Police contract comes up, people should be reading what that really means. We should be ready to activate and motivate to say what we want to have."
One thing Bynum wants to accomplish is more meaningful legislation like Measure 98, a successful school funding measure in 2016 that took aim at increasing the state's high school graduation rate, among the lowest in the nation at the time, but now reaching 80 percent, an all-time high.
Her racial justice priorities for the Legislative session set to begin Jan. 19 include added police and juvenile justice reforms, teacher standards and more mental health services.
"My number one goal right now is working on a bill on improving the number of mental health providers, for loan forgiveness and reducing the number of hours clinicians have to be supervised, the opportunity for those incarcerated to become counselors and therapists, and addressing, in a very bold way, the lack of mental health services available to us," she said.
Bynum was among several other lawmakers who sent a letter to Gov. Kate Brown in November that the state's mental health system was broken.
"The inequities that communities of color have faced by the COVID-19 crisis has only expanded the need to create better-supporting structures for them," she wrote. "Our communities are struggling on multiple levels, including economically and with mental and physical health."
Bynum grew up in Washington D.C. and both her parents were teachers. Her family moved from the area in the 1980s as violence brought on by the crack cocaine epidemic soared, she said.
"That's why I'm so super sensitive to the increase in gun violence in Portland, as well the incarceration of young men," she said.
Bynum attended the Madeira School in McLean, Va. during her high school years, where she found life-changing support.
"It was transformational for me, because as long as you don't know what you don't know, it's hard to aspire, to know how high to reach," she said. "But there I was exposed to be anything I wanted to do, and any dream you had was supported."
From there Bynum went to Florida A&M on a scholarship from Boeing, graduating with a degree in electrical engineering and worked for several years for General Motors, including a stint in Taiwan working on hybrid vehicle technology, before getting her Master of Business Administration degree from the University of Michigan.
Bynum, 45, has lived in Portland for 20 years.