Connecting with Nature
NAACP and Metro sponsor youth-led hikes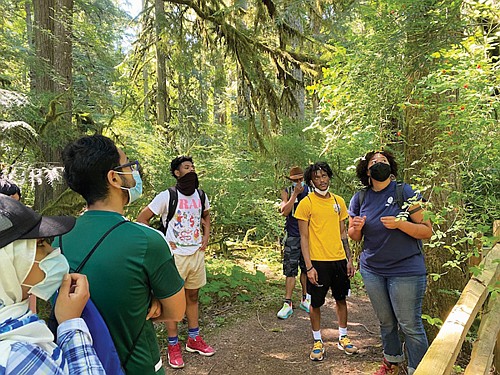 Like generations before them, Black and brown kids haven't always felt safe or welcome in the outdoors, but the Portland NAACP and Metro have started a program this year to reverse that trend and involve them in a new hiking program at area public parks.

"It's so they can build positive memories out in nature and also to allow some of the youth to be around Black and brown professionals in environmental fields," said 
J'reyesha Brannon, chair of the NAACP's Environmental Justice committee, a lead organizer of the program.

Made possible by a grant from the regional government Metro, and a new bill passed by the Oregon Legislature, the outreach came with the recruitment of 10 young locals between 16 and 21 who signed up to be hiking guides. They were trained for three days by Metro to learn about plants, animals and waterways along the trails in the Smith & Bybee Wetlands, Oxbow Regional Park and Scouter's Mountain.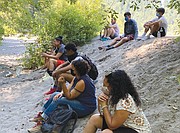 The hikes began July 6, and two remaining outings are still on the schedule, Aug. 2 and Aug. 3. To register for the hikes, go to the NAACP website at pdxnaacp.org/announcements.

The young hiking guides earn $700 by leading the two-hour excursions, another way the program uplifts people of color or those that are disadvantaged.

"We had over 60 apply (to be guides) but we didn't know so many would apply," Brannon said. "So Metro is excited about us and wants us to apply for another grant" for next summer.

Because many public places, including public swimming pools and other recreational sites were off limits to Blacks historically because of racism, many never learned to swim or learned about the outdoors, Brannon said.
Teaching the young hiking guides are Metro staffers Jazz Bias and Jason Ligons, both African-American and environmental professionals.

"Kudos to Metro staff," Brannon said. "It's the first time I've worked with a quasi-governmental organization where everyone was BIPOC (Black, Indigenous and People of Color)."

"It's good exposure (for the kids) to see these careers," she added.

Both Bias and Ligons hope some follow in their path, she said.

"One of the things Jason and Jazz said was that if one of the kids went on to pursue environmental education as a career, it would make the entire program worthwhile," Brannon said.

The young guides carry out mindfulness exercises and learn things like how some native plants have medicinal uses, like a salve made from the green part of plantains, she said.
"People normally pull out plantains, which is considered a nuisance plant, but is actually really useful," she said. "It's really good for moisturizing when you mix it with coconut oil. It's good for the skin."

The hiking groups have been small because of Covid, she said, and have mostly been families with kids, but everyone is welcome.

The benefits of being out in nature are myriad, Brannon said.

"The hikes are so they can build positive memories out in nature, and also includes mindfulness and stress release to include meditation and the stress of racial trauma," she said. "We talk about safe spaces and how nature clears your mind. They get exercise and get away from cell phones," even though some kids "freaked out" with no cell service at Oxbow Park.

Another move that will help ensure the safety of Black community members and other people of color is the recent passage of Oregon Senate Bill 289, environmental equity legislation that carries penalties for people who do hate crimes in nature, she said.
 
"It falls in nicely in line with trying to get Black folks in nature that hasn't always been welcoming," Brannon said.
While all the hikes currently are accessible by car, Brannon would like to see transportation made available to area parks in the future.

"Eventually we'd like to get a shuttle bus, and we've got another grant in the works (from Portland General Electric) for an EV (electric vehicle)," she said.

The grant application is for $80,000 and Brannon said she is not super optimistic because of the high price tag, but she'll keep trying.

"We want to make sure these hikes are accessible," she said.

Thanks to Metro's support, Brannon said the program will not only continue next year, but will be expanded and will likely include other groups with similar missions, such as the People of Color Outdoors Meetup group, founded in 2017 by Pam Slaughter, who testified in favor of the Senate bill, Brannon said.

"I hope next time I can partner with her," Brannon said. "She's already doing this and that will make it even better for the kids.
 
In a publication by the Portland Audubon Society, Slaughter explained the reason many Black people are not as acquainted with the natural world as they should be.

"Black people and other people of color sometimes experience verbal abuse, threatening behavior, and even physical attacks while enjoying the outdoors," she wrote. "As a result, going outdoors to enjoy nature can feel like a potentially dangerous thing to do."

But spending time in nature can lead to healthier, happier communities, she wrote. "It's more important for people of color to connect with nature. It's critical."
--Beverly Corbell