BIPOC-focused Vaccine Clinic Held
Hundreds of seniors turned out for COVID-19 shots
3/3/2021, 2:14 p.m.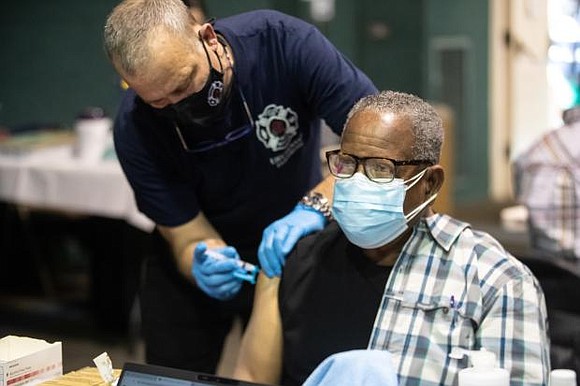 Multnomah County's Communicable Disease program teamed up with the REACH Program, Highland Haven and community partners to vaccinate nearly 400 seniors in the county's first large event for elders in communities experiencing the highest rates of COVID-19 infection, hospitalization and death.
The Feb. 19 clinic at the Highland Christian Center, a historically Black and diverse congregation in east Portland, focused on providing free and low-barrier COVID-19 vaccines to elders 70 and older from Black and African American, immigrant and refugee, indigenous and other communities of color.
Eligible residents had to sign up for slots and complete a health screening before arriving at the clinic. At the door, specially assigned navigators helped guests sign in, complete further screenings, answer questions, and provide any needed interpreter services.
From there, nurses and paramedics administered the vaccine doses. Meanwhile, other medical staff watched over all of the newly vaccinated people for a short observational period, usually 15 to 30 minutes.
Joyce Harris, a retired teacher and lifelong community activist, was among the first to receive her vaccine Friday morning. Minutes after arriving, Harris and her husband had already received their shots and were sitting in the observation area, waiting to head home.
The past year has been rough for them, Harris says. She spends much or her time in community service, volunteering with nonprofits and serving on community boards. And month after month, she feels like she spends every waking hour on Zoom. She's struggled with insomnia, high blood pressure and a blood clot. And people she loves have come down with COVID-19.
African American people experience higher rates of disease, hospitalization and death from COVID-19. But the rapid pace of vaccine development, coupled with a history of racism in healthcare, have made some people wary of being among the first to get the shot.
"I know from talking to people that there is fear. Some people in the Black community may be reluctant to be first to get this vaccine because of past experiences with medical care," she said. "At first I wasn't sure I was going to take the vaccine. But you look at all the people dying from COVID. Even with side effects, you're better off with the vaccine than without it."
J.J. Johnson and his wife were also among those originally hesitant about the vaccine.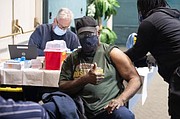 "At first we were concerned. But my wife and I started getting more educated," he said. "I wouldn't be the first one to get the vaccine. But after a couple million? OK, now I will."
He's retired now, and his daily routine hasn't suffered much from the pandemic and the ways it's shut down society. His family has remained healthy, too; but it's hard to escape the heaviness of the last year.
"I hold things in, but it's been stressful," he said, nodding his head. "We've been fortunate compared to other states. I'm blessed I get to have the vaccine."
Black Oregonians comprise more than 2 percent of the state's population and 2.5 percent of COVID-19 cases. But they are three times more likely to be hospitalized with the disease, and three times more likely to die, than non-Hispanic white people. Yet, at the same time, Black Oregonians account for just 1.5 percent (link is external) of those who have received the vaccine statewide.
The higher rates of illness, coupled with unequal vaccine access, has led Multnomah County to center racial equity in its vaccination strategy. And that strategy involves working with community groups to coordinate events where people feel welcome and don't have to compete for access.
"We heard from the ACHIEVE coalition and other partners that we needed this," said Charlene McGee, program manager of REACH, which stands for Racial and Ethnic Approaches to Community Health and works to redress chronic disease disparities within Black communities, while cultivating a culture of health and resilience. "We want to be culturally and community responsive."
It was the first culturally specific clinic REACH helped organize, and McGee said she was proud and inspired by the enthusiasm of the Public Health team who work long hours to stand up many other community vaccine clinics throughout the week.
Thanks to Multnomah County Communications for this story.