High School Student Highlight
Senior excels toward graduation
3/9/2021, 12:57 p.m.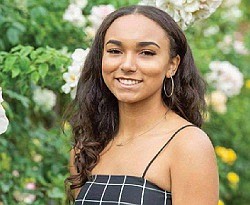 Zoe Holman, a senior at Franklin High School graduating this year, is striving to be the best she can even during the COVID-19 pandemic.
Zoe got her early education at Creston Elementary, a K through 8th grade school, but was able to skip the 7th grade because she was so advanced in her studies. She has carried a 4 point GPA all the way from her middle school years to high school.
At Franklin, she has served as an assistant leader of the Black Student Union and played volleyball and tennis. Right before the pandemic, she also got a part time job and is currently working and doing online school.
Zoe plans on continuing her education in Oregon and trying to pursue her dream job of working in the film industry. She has already created a film with other Franklin students on the Open Signal Media You Tube channel. She also interviewed two students at Kelly Elementary school in regards to Black Excellence in Portland.
Congratulations Zoe!