Housing to Bring New Life to Cully
Construction begins on long vacant property
3/24/2021, 9:11 a.m.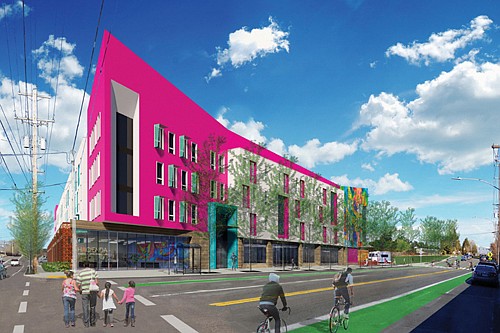 Construction has officially begun on Las Adelitas, a new, four story, multi-family housing complex in the Cully neighborhood.
The development of 142 new affordable homes by the non-profit Hacienda Community Development Corporation will bring new life to a block bordered by Northeast Killingsworth Street and Cully Boulevard, a site that for years was home to a strip club and a hot-bed of illegal activity.
"Hacienda, along with the Cully community and other partners have been working for more than five years to redevelop this site," said Ernesto Fonseca, Hacienda chief executive officer. "The road to get here has been bumpy, and the plot twist at the end was a pandemic. But the tenacity, hope and vision of the community have paid off. We couldn't be more excited to put the first shovels in the ground."
When complete, Las Adelitas is expected to be home to over 400 people. The housing development was designed by Salazar Architects and will be constructed by LMC Construction . Construction is estimated to be complete by October 2022.
Funding for the project includes over $15 million from the Portland Housing Bond, a 2016 voter-approved initiative to build more affordable housing in the City of Portland.