'Melo' reaches Top 10 in Career Points
NBA star defines greatness, coach says
5/4/2021, 3:13 p.m.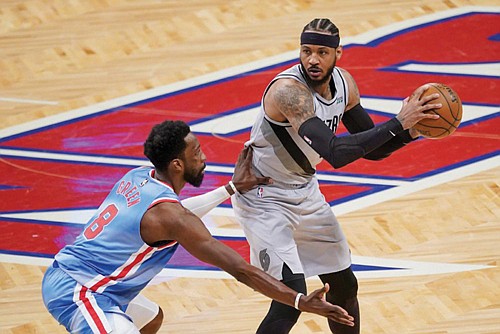 (AP) — Carmelo Anthony looked like he was headed for a forced retirement just a couple of seasons ago. Now, the Portland Trail Blazer is part of a truly exclusive club in the NBA.
'Melo' scored 14 points Monday night in Portland's 123-114 loss to the Atlanta Hawks, moving him past Elvin Hayes for 10th place on the NBA career scoring list with 27,318.
"If you're in the top 10 of anything of all time, it's a special moment," said Anthony, who is in his 18th NBA season and turns 37 before the month is out.
A starter his entire career, he is coming off the bench now, playing a supporting role to younger stars, players who still look up to him, such as Damian Lillard.
"Being in the top 10 in a really special accomplishment," Lillard said. "For him, it's probably a little more special. A lot of people counted him out and tried to finish him."
During his time with the Trail Blazers, Anthony has passed nine players on the career scoring list.
He knocked off Alex English, Kevin Garnett, John Havlicek and Paul Pierce last season. He has taken down Tim Duncan, Dominique Wilkins, Oscar Robertson, Hakeem Olajuwon and now Hayes this season.
Next up for Anthony: Moses Malone at 27,409 points.
"For Melo to be out a year and come back makes it even more remarkable," Portland coach Terry Stotts said. "I always appreciate greatness, whether it's a player I'm coaching or coaching against. Melo is a great player. He's a Hall of Fame player."
Lillard went on and on about what a pleasure it's been to have Anthony as a teammate, disputing those who have described him over the years as a selfish player who was never quite good enough to lead his teams — most notably, Denver and New York — to a championship.