Losing Bid Upsets Immigrant Group
Leader expresses deep disappointment in process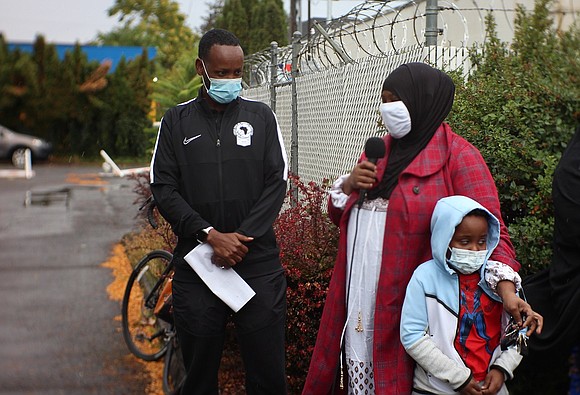 In February, when Jamal Dar of the African Youth and Community Organization (AYCO) signed a two-year lease for a Metro government-owned building at Northeast Glisan and 74th Avenue, he hoped it would be a permanent home for his nonprofit, even though plans called for the site to eventually be demolished for new affordable housing.

Dar said AYCO even entered a housing proposal for the development, the former Trinity Broadcasting site, and is deeply disappointed that Metro instead selected a New York-based firm, Related Northwest, and he's not satisfied with the selection process.

"I just want to know more, get more information about what criteria were used, what score sheet was used, and what kind of calculations were used for the score sheet," he said.

Now that his group is out of the competition, Dar is looking to raise funds for a new building for AYCO, which serves refugees from the African continent, mostly from Somalia. Donations can be made to http://aycoworld.org/donate-now.

Dar said he has reached out to City Commissioner Dan Ryan, who oversees the Portland Housing Bureau, the Bureau of Development Services, and the Joint Office of Homeless Services, to get some answers, but has not heard back after more than a week.

"He hasn't returned my phone calls or letter," Dar said. "We are just looking for the opportunity so Commissioner Ryan can explain the funding priorities, how they shifted to a company from New York that is not a nonprofit."

The AYCO proposal, which included collaboration with REACH Community Development, Sera Architects, Black-owned Colas Construction, Community Vision, and El Programa Hispano, called for 141 affordable units while the Related NW proposal called for 137 units, Dar said.

Ryan was not available for an interview on short notice last week, but his spokeswoman, Margaux Weeke, sent a lengthy email response from PHB director Shannon Callahan, to several questions, including, "Why did the city choose to award the bid to Related Companies?"

First, Callahan pointed out that the City Council did not play a role in the bid process, but that the Housing Bureau received five proposals for the new building. Proposals first went through an initial "two-step intensive review process," she wrote, including a technical and financial feasibility committee and a community review committee.

"The project selected through that process was proposed by a development team that includes IRCO (Immigrant and Refugee Community Organization), Catholic Charities and Related NW," Callahan stated. "Out of the five project proposals received, the proposal submitted by REACH CDC in partnership with AYCO ranked third, based on the criteria and parameters set forth in the solicitation."

The selection of Related Northwest is currently under review by Metro, she stated.

"Metro has shared with us that they have been clear with AYCO throughout the process of temporary leasing and community engagement that the project/developer selection process for the site would be a competitive one," Callahan wrote. "Ultimately, the proposal they were part of was not selected through the competitive process led by Portland Housing Bureau. We are sympathetic that this is a disappointment."

Regardless, Dar is not satisfied and said he has requested a meeting with Metro Council President Lynn Peterson to ask her about transparency the selection process. He said he expects to meet with her sometime this week.

Dar, a native of Somalia, started AYCO in 2008 as athletic mentorship program for six East African boys who were school dropouts. Through engaging them in sports, he was able to get them back in school and the organization has grown enormously since then.

Today, AYCO has a staff of 16 and programs for youth, families, health and disability, psychological-social services and rental assistance, and serves more than 20,000 community members each year, Dar said.

Many of AYCO's staff have similar backgrounds to the people they serve.

"We understand the language, we understand the culture, and we've also been in the school system so we know how to navigate in school," said Nuradin Abdirahman, who works in AYCO's Uplift program that helps middle, high school and college-bound students.

In a recent interview, Dar said AYCO is serving about 2,000 people a month and has invested "too much money in new equipment and supplies to simply walk away come next November."

According to the Portland Tribune, Metro spokesman Nick Christensen called AYCO "a wonderful partner" and hoped to collaborate with the nonprofit in the future.

"We are sympathetic that this is a disappointment and hope AYCO will be able to find a permanent home," Christensen said.

AYCO receives funding from the city, Metro, Oregon Community Foundation, the Collins Foundation, Oregon Department of Education, Nike Community Impact Fund, Oregon Department of Human Services, CareOregon, and more.

"We are trying to kind of bridge the gap when it comes to mental health and substance abuse, when it comes to domestic violence, when it comes to hate and Islamaphobia," Dar said.

In terms of a new space, Dar says AYCO needs a center that includes a multi-use athletic space, offices, conference room, commercial kitchen, Head Start classroom, reception area and shared workspace. He would like to have space in the new building or somewhere in the Montavilla neighborhood, where many East African immigrants live.

The organization's current one-story building at 432 N.E 7th Ave. is owned by Metro and the Housing Bureau. It will be demolished ahead of a new $56 million affordable housing project, including $19.5 million from a 2018 regional housing bond.

According to a news release from the city, Related Northwest's plans call for constructing two buildings, one with 41 units of permanent supportive housing, supporting people of color, seniors, homeless persons and survivors of domestic violence or sexual assault.

The second building will have 96 units of family housing to target "BIPOC, seniors, immigrant and refugee households and intergenerational families." Catholic Charities will provide case management and the Immigrant & Refugee Community Organization will provide resident services.

Planned amenities include a community room and kitchen, laundry room, playground, picnic area, community garden, bike parking, surface parking, and onsite multicultural preschool. The project team is also partnering with Mercy Corps NW to promote small business classes and offer two retail incubator spaces and a café in the ground-floor commercial space.
--Beverly Corbell