Severe Winter Weather Shelters Readied
On worst nights, no one will be turned away, officials say
11/23/2021, 10:16 a.m.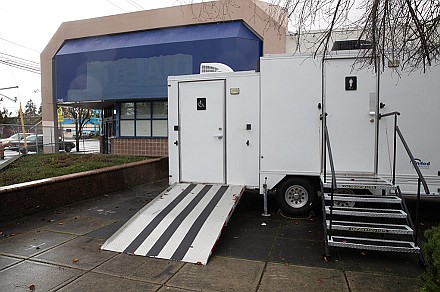 With forecasters expecting an especially cold and wet winter, leaders from Portland and Multnomah County have reaffirmed their promise to provide no-turn-away shelter and transportation on the most dangerous nights of the year.

A list of sites that will provide severe weather shelter on nights when thresholds are met, as well as plans to provide transportation and street outreach were recently announced.

"We will be able to offer no-turn-away shelter to anyone who needs a safe, dry, warm place to spend the night during the coldest, most dangerous nights," said County Chair Deborah Kafoury.
Leaders also noted the work to provide additional all-winter shelters, like the space at Arbor Lodge, a former Rite-Aid store at North Lombard and Denver.

"I am especially grateful to the residents of Kenton and Arbor Lodge for their support," said County Commissioner Susheela Jayapal, whose district includes the shelter site. "They have opened their arms to a variety of housing options for their neighbors and have stepped up to ensure these new community members are welcomed."

Arbor Lodge is also the first shelter managed by the Joint Office of Homeless Services that pairs heated sleeping pods outside with a traditional indoor sleeping space, allowing the facility to expand the number of people it serves.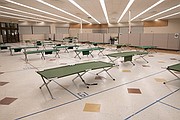 "With the pods in the parking lot and the beds inside, we're going to be serving more of our unhoused neighbors this winter starting today because of this site," said Oregon House Speaker Tina Kotek, whose district includes the Arbor Lodge shelter. "Because lots of people over the last couple of months have worked very hard to make this happen. Because none of us want to see our neighbors living on the streets."

As many as five locations will be immediately ready to open on nights when severe weather thresholds are met, offering roughly 250 beds while also ensuring physical distancing and COVID-19 protocols. Secondary locations with hundreds more beds are ready to open should those initial sites fill, official said.

The Joint Office declares severe weather on any night when temperatures are forecast to drop below 25 degrees, or on any night when the forecast shows freezing conditions and heavy rain or snow.

On those nights, no one seeking shelter will be turned away. 211 will share alerts about shelter locations and hours. Street outreach teams will work to reach people in need with gear and information about shelters. Anyone seeking a ride to shelter can also call 211 and have transportation arranged.

Unlike severe weather-only beds, winter shelter beds are open day after day, no matter the forecast, from November/December through April. Just like with year-round shelters, winter shelters are available only through reservations. Anyone interested in accessing shelter should contact 211.
 
Two of the seasonal shelters, the Walnut Park Shelter and the Downtown Winter Shelter, have been operating nonstop since last winter, thanks to COVID-19 funding and other local funding. Both have been able to continue providing space throughout the COVID-19 pandemic.
 
Multnomah County purchased the Arbor Lodge site, a former Rite Aid, with one-time COVID-19 funding last year. The Joint Office and County previously operated Arbor Lodge as an emergency shelter during snowstorms and heatwaves.
 
But this year, thanks to funding from the state, the Joint Office will operate Arbor Lodge as a 24/7 winter shelter for the next several months while it works to design and construct a long-term shelter on the site starting next fall.