Zoolights Illuminates the Season
Display has walk and drive options
11/23/2021, 11:35 a.m.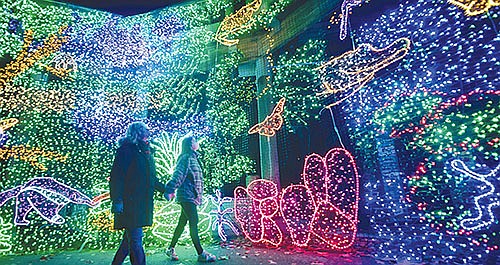 A Northwest holiday tradition is back! ZooLights, presented by U.S. Bank, showcases a winter wonderland of more than 1.5 million brightly colored lights at the Oregon Zoo.

This year, there are two ways to illuminate the season: ZooLights' traditional walk-through experience makes a much-anticipated return, and the zoo has also set aside a dozen midweek evenings for a drive-through experience similar to last year's.

The drive-through option may better accommodate people with different physical abilities, according to guest services manager Ivan Ratcliff, and it may be a more comfortable choice for some during the COVID-19 pandemic.
For tickets and additional info, visit oregonzoo.org/zoolights..

"Everything's been adapting to change these past couple of years, and ZooLights is no exception," Ratcliff said. "We've put a lot of measures into place to help make this holiday tradition safe, accessible and fun for everyone."


To help ensure a safe experience for all, COVID safety measures will be in place during this year's ZooLights. All guests, including members, must reserve their ZooLights tickets in advance via the zoo website.

Face masks will be required for all walk-through guests 5 years and older. Drive-through guests do not need to wear masks while inside their vehicles. Masks are required, however, during check-in and other interactions with ZooLights staff.