Born in Tough Times
New salon is face of next generation
10/5/2021, 4:03 p.m.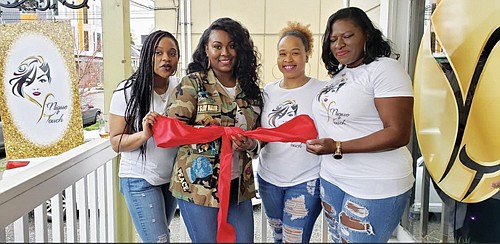 Starting a brand new business is really hard. Of course doing it doing a pandemic is even harder. And when you're the face of the next generation of historic black-owned Portland businesses, the pressure is on!

In the middle of Portland's Alberta Arts District, at Northeast 13th and Alberta, sits the newest black-owned hair salon, Y'Nique Touch Salon.

According to owner Y'Nique McAllister Wright, this highly-rated boutique is so much more than getting a blowout or protective hair style, it's about the vibe, esthetics and overall experience.

 "From hair to HAIRitage, we honor and nurture the roots we grew out of," Wright says, describing the rich history of the arts district as well the neighborhoods of north and northeast Portland, the center of black culture in Portland.

"We are doing our part in contributing to the future by honoring the past which is evident via the art work displayed on the walls throughout the salon," she said. "We focus on healthy natural hair which starts with the scalps, and the integrity and longevity of a healthy hair care regimen. Hair comes in all different colors, different shapes, different styles, different textures, and we cater to them all."

Services include both natural and chemically-treated hair solutions at an affordable cost.

A recent client called Y'Nique a rare find.

"I'm new to the area and I wanted a cute cut, but have never had a super short cut before. After looking on Google I came across a number of stylists, but Y'Nique's high rating, salon pictures and the reviews sold me," the customer said. "I felt so comfortable and at ease during my appointment. Her conversation, good vibe, music, cool space and constant reassurance during the cut made it an incredible experience! She knows her craft and I'm loving my cut!"

Hair salons may not be considered "essential" businesses to some, but Y'Nique Touch is showing that the services they provide prove Black women matter.

Black-owned hair salons have fought to keep their doors open and survive this unprecedented and hectic coronavirus pandemic. The hairstylists matter too. Consider booking an appointment with your local Black-owned salon. When you show up, you also help Black women get their sacred spaces back.

Y'Nique Touch Salon, 5011 N.E. 13th St., is open Tuesdays and Wednesdays from 9 a.m. to 7:30 p.m. Thursdays and Fridays from 8 a.m. to 6 p.m.; and Saturdays, from 7 a.m. to 2 p.m. For more information or make an appointment, call Y'Nique at 503-477-9969 or visit the website www.YTsalon.com.