Films Lift Silenced and Diverse Voices
Portland Film Festival's run of independent films begins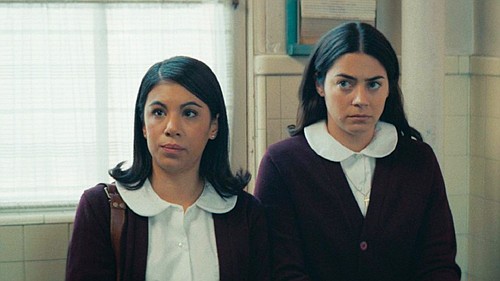 The Portland Film Festival is here, a chance to explore independent films that fight to find an audience even though they often deserve it most. This year's festival—its fifth outing—will feature tracks of stories from various communities that have been historically marginalized or silenced—women's voices, black voices, Latinx voices, Asian voices, LGBTQIA+ voices, The festival will be virtual, accessible—and rich with good stories.
 
The opening night film is "Women is Losers," Lissette Feliciano's inaugural feature-length directing effort about the travails of a young Latina in 1960s and 1970s San Francisco. Chilean actress Lorenza Izzo (memorable as Leonardo DiCaprio's Italian starlet wife in the largely forgettable "Once Upon A Time in Hollywood") stars as Celina, a promising student at a Catholic high school who dreams of college and a career but also of romance with her soldier boyfriend Mateo. Celina doesn't live in a world that sets her up to succeed on any of those fronts; lacking much in the way of resources, family support, or sex education, her life predictably derails from there. 

From its opening frame, "Women is Losers," borrowing from Janis Joplin's song of the same title, recognizes that Celina's life isn't the type of life that would occupy much screen attention—that would more likely go toward Mateo and his blond future paramour, and Celina would merely be the loser in the background. But this film invests in Celina's journey--the young single mother trying to scrap her way to an independent life at a time when an unmarried working woman needed her unemployed dad to co-sign for her to rent an apartment, when people could overtly enact policies against extending home loans to women and Mexicans, and when low-wage work was a brown woman's only real option, no matter how brilliant she was.
 
Director Feliciano, inspired by conversations with her own mother, wants us to grapple with the unrelenting barriers facing women of color at the time and to connect those barriers to the struggles faced by women and people of color today. She wants us to see that being smart doesn't serve Celina the way it would if she were a white man; she ends up using her intelligence largely to navigate the incessant barriers of unhappy and oppressed parents, dismissive and unhelpful advice that fails to account for her actual options, low wages for long hours, sexism, racism, and the nonsense men are taught about what they have a right to expect from women. 

 Feliciano's aims are ambitious and fall into predictable pitfalls—structural barriers are extremely hard to depict without oversimplifying and turning characters into two-dimensional heroes and villains.  Feliciano's approach is to embrace the struggle by occasionally breaking the fourth wall and having her characters connect the dots directly for the audience. The artificiality is meant to underline what she wants us to see; a way around the bafflement that often accompanies the actual experience of being gaslit by a system or a person wielding structural power.
 
The result can at times feel a bit too on-the-nose, and doesn't always support the complexity that Feliciano is hoping for. She is helped, however, by some inventive story-telling that embraces its moments of artificiality and by good work from her cast, especially Izzo, who packs each moment on screen with intention that makes you forgive the occasional clunky dialogue. Izzo captures things about Celina that make her a heroine very worth rooting for—the stolid way she handles even moments of despair, her resourcefulness, the energy she finds in moments of exhaustion.  There is also fine work here from Steven Bauer as her bitter misogynist father and Alejandra Miranda as her beleaguered mother, and Simu Liu (currently starring in Marvel's "Shang-Chi") appears as a bank supervisor who offers Celina an opportunity and coaching for an unnamed price. The staginess often does serve the material—Feliciano manages to illuminate connections that don't receive enough attention and affords dignity and respect to a sort of heroism that is too often unnamed and devalued. The film may well cultivate the sort of curiosity and respect that will deepen conversation across generations and illuminate the abundant work that remains.

The Portland Film Festival runs Oct. 6 through Nov 8. You can find information about the films, passes, and tickets at pdxff.com.
Darleen Ortega is a judge on the Oregon Court of Appeals and the first woman of color to serve in that capacity. Her movie and theater review column Opinionated Judge appears regularly in The Portland Observer. Find her review blog at 
opinionatedjudge.blogspot.com
.