Caring for Someone with Dementia
Black families offer lessons in support
9/7/2021, 10:59 a.m.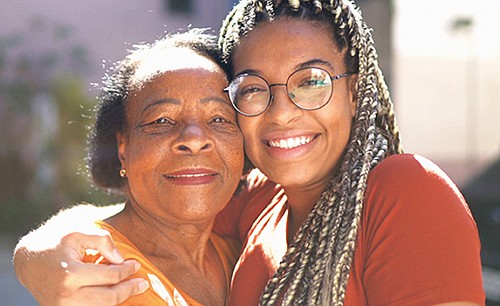 About 70,000 Oregonians have dementia, a type of brain disease that affects thinking, decision making, and daily function. The most common type of dementia is Alzheimer's disease. While there are many types of dementias, there are commonalities between them.

For example, most dementias affect people age 65 and older. The other common factor is that most people with dementia will, at some point in their lives, need help with their daily activities, such as cooking meals, bathing, toileting and medication management.

Caring for someone with dementia is a complex experience. Many caregivers find this work rewarding and feel as though they are giving back to their families. Caregivers also experience stress. And because many people live with dementia for years, the stress is ongoing and can affect caregivers' physical, mental, and financial health. For example, we know that caregivers for people with dementia are more likely to have high blood pressure, depression, and anxiety.

Research indicates that caring for a family member with dementia can lead to feelings of fatigue, depression and worry, yet this understanding of the caregiving experience is framed mostly by research with white families. This trend is changing, however, and we are learning that Black families offer lessons in how to manage the burden that comes with caregiving.

For example, some studies suggest that Black family caregivers focus more on what is "still here" in their family members, rather than grieving what has been lost. Further, Black family caregivers tend to "hang on" to a family member with dementia, placing value on longevity, rather than magnifying dementia-related changes.

In a survey by the National Alliance for Caregiving, (NAC) 59% of Black caregivers reported that caregiving gave them a sense of purpose (compared to 46% of the white caregivers). Nonetheless, the NAC study found that 29% of Black caregivers experienced emotional strain.

Taken together, we know that Black caregivers tend to fare better emotionally than white caregivers, but there is still much we don't know about the Black caregiving experience—more work is needed.

For all caregivers, we know that to thrive, caregivers need to care for themselves as much as they do for their family member with dementia. It can help to learn about the disease, get support from friends and family, and take frequent breaks when possible. Exercising, eating healthy foods, and spending time with friends can help caregivers stay healthy.

Support is available from the Multnomah County Caregiver Support Program (503-988-3646), the Alzheimer's Association (1-800-272-3900) and Oregon Care Partners (oregoncarepartners.com) which offers free online classes.
At the Layton Aging and Alzheimer's Disease Center, we encourage Black families to engage in our research programs, such as the African American Dementia and Aging Project (AADAPt) and our caregiver studies.

For more information about these offerings, please call 503-494-7647. Caring for a family member with dementia is challenging but important work. Caregivers deserve the support of families, communities and the state and the nation.

If you care for someone with dementia, thank you for all you do.

Allison Lindauer, PhD, APRN, Associate Professor and Outreach, Recruitment and Education Leader for the Layton Aging and Alzheimer's Disease Center at Oregon Health and Science University, provided this important information.