Warren Hired for Justice Integrity
DA creates unit to review past convictions
9/7/2021, 3:33 p.m.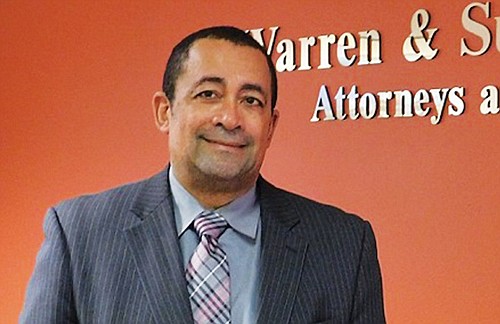 A long time criminal defense attorney and racial justice advocate from Portland's Black community will review wrongful convictions and review prison sentences as head of a new Justice Integrity Unit in the Multnomah County District Attorney's office.

District Attorney Mike Schmidt last week announced his hiring of Ernest "Ernie" Warren, founder of first Black-owned defense law firm in Oregon and a passionate civil and criminal defense attorney of more than 30 years.

Warren, a seasoned and passionate civil rights leader, who ran unsuccessfully for Multnomah County Circuit Judge in 2020, will now lead a newly funded program similar to integrity units being formed by progressive prosecutors across the county, Schmidt said.

The new unit comes after Schmidt successfully lobbied the Legislature to pass Senate Bill 819, which allows a district attorney and a person convicted of a crime to ask a judge to revisit a conviction or reduce prison time.

Schmidt said the work will include reviewing requests from people convicted years ago of crimes such as drug dealing who have stayed out of trouble and want to have felony convictions reduced to misdemeanors so they can seek housing and employment.

"They haven't had any crimes in over a decade and yet they are stuck with these marks they can't remove," he said.
The unit also could include looking at juveniles serving time under Oregon's mandatory minimum sentencing law that applies to the most serious violent crimes. In 2019, the Legislature changed the law in an effort to keep young people out of adult court and its related harsher sentences.

"We are going to have to figure out with the resources we have how many cases we can take on," Schmidt said, adding that he had spoken with the top prosecutor in Washington's King County who said a similar unit handled about 30 cases in its first year.

The District Attorney's Office has had a conviction integrity unit in the past, but Schmidt said the work was previously bare bones.

Warren has been vocal about holding the District Attorney's office accountable to carrying out justice fairly and equitably as well as the deep racial disparities in our criminal justice system throughout his career.

In a prepared statement, he said working for the top prosecutor in the county and running the Justice Integrity Unit would not be a departure from his zealous advocacy for accountability and fairness in the criminal justice system.

"Instead, this role is an inflection point in a career devoted to seeking justice, where I can do the most possible good for the greatest number of people impacted by the criminal justice system." Warren said.

Born and raised in Portland, Warren attended Willamette University earning a Bachelor's degree in economics, followed by the Atkinson's School of Management before pursuing a law degree at Arizona State University. A veteran mentor to clients, gang-impacted youth, students, new attorneys and more, he has dedicated himself to service well beyond his law practice.

Schmidt said Warren has the background and experience to ensure that the new Justice Integrity Unit is carried out with fairness and equity as a north star.

"Justice doesn't stop at the conclusion of a trial, it includes critically evaluating past convictions, ensuring current reliance on forensic evidence is well placed, re-examining old sentences that may no longer be necessary for the safety of the community, and giving people who have served their time a chance to move on with their lives by expunging past convictions and eliminating fines and fees that can keep people in downward debt spirals," Schmidt said.

Multnomah County joins a half-dozen other large city prosecutors' offices in creating a sentencing review unit and another 90 that have conviction integrity units, said Aliza Kaplan, a professor at Lewis & Clark Law School and a criminal justice reform advocate who advised Schmidt on the plan.

Kaplan said it's unusual for a DA's office to combine those efforts and to ensure they are robust.
She said analyzing wrongful convictions goes beyond DNA exonerations. The work requires "a real investigation and a deep dive into what happened years and years ago."

-Associated Press contributed to this story.