Dedicated Plaque Honors Black Pioneer
A.H. Francis thwarted exclusion law
9/21/2021, 3:42 p.m.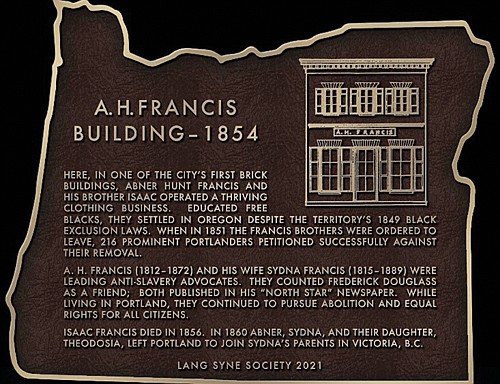 On Saturday, a plaque honoring Black pioneer merchant and abolitionist A.H. Francis was dedicated in downtown Portland courtesy of the Oregon Black Pioneers and the Lang Syne Society.

Located at the site of Francis's former mercantile at Southwest Front Avenue and Stark Street (now Naito Parkway and Harvey Milk Street), the plaque was affixed to a concrete  guardrail stanchion where the Morrison Bridge off-ramp curves through the site.

Francis moved west in 1851, soon after Portland was incorporated, with his brother, Isaac B. Francis. Although they were threatened with expulsion from the Oregon Territory due to the Black exclusion laws, a petition signed by 216 Portlanders, a large portion of the population at that time, helped to thwart their eviction.

Francis and his brother became successful clothing merchants, operating a prosperous store until 1861, when Francis and his wife Synda Francis moved to Victoria, British Columbia.

Throughout the mid-1800s, Francis was an active abolitionist, using his position to fight for Black people from western New York to the Pacific Coast. He wrote letters to his friend Frederick Douglass about the conditions for Black people in Oregon and California, and about his resistance to Oregon's Black exclusion laws, and Douglass published the letters in his abolitionist newspaper.

Kimberly Stowers Moreland, vice president of the Oregon Black Pioneers and author of Images of America: African Americans of Portland, says "the A.H. Francis Building is one of the most significant contributions of African Americans to early Portland and represents an amazing story of resilience."