Peterson Enters Sheriff's Race
Candidate speaks out on gun violence, other issues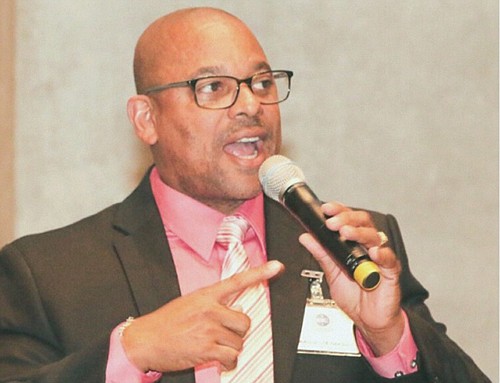 Capt. Derrick Peterson is pointing to extensive experience in law enforcement and corrections in a campaign to become the next sheriff for Multnomah County, replacing Mike Reese who is retiring next year because of term limits.
Peterson announced his candidacy for the position last month in an election that will be held in May. He is the first Black person to run for the office this election cycle and his opponent, Undersheriff Nicole Morrisey O'Donnell, with 25 years in the department, is the first woman to run this year.
Peterson told the Portland Observer he was counting on his 35 years of experience in the Multnomah County Sheriff's Office to help him navigate the responsibilities of the job, along with his ability to build community coalitions to help bring peace to impacted neighborhoods.
Peterson has headed up the county jail system for the past three years, a department that he wants to increase its efficiency.
 "I would like to find redundancies in the system and try to streamline for efficiency purposes," he said. "We're throwing a lot of money at a lot of issues, but a lot of times they overlap, so I want to see if we can find commonality to address issues in a more efficient manner."
Peterson is president of the local chapter of the National Organization of Black Law Enforcement Executives, describing the "blue collar path into leadership," he has taken over the years.
He is nationally recognized as an expert in diversity training, which he has taught at county law enforcement academies for the last two years.
He has also held panels on police reform to help shape community involvement in policing and worked on supporting BIPOC (Black, Indigenous, and People of Color) law enforcement personnel as they faced challenges following last year's murder of George Floyd in Minneapolis.
Peterson also serves on the boards of the Social Sciences Department at Portland Community College and the Collins Grace Foundation.
He's held a "multitude of positions" over the years, including as a sergeant and chief deputy before being promoted to lieutenant as commander of the Corrections Emergency Response Team and has also as commander of hostage negotiations.
Peterson was promoted to captain three years ago to oversee Multnomah County Department of Corrections including the county's two jails, the Multnomah County Detention Center, inside the Justice Center in Downtown Portland, and Inverness Jail in northeast Portland.
"I've gotten to the point in my career where I've gained enough skill sets and tools while also being able to successfully garner support from various community leaders," he said.
 Peterson has won endorsements in his campaign from state Rep. Janelle Bynum of Happy Valley and southeast Portland and Herman Greene of north Portland who was recently elected to the Portland School Board.
His experience running the county jails has given him a unique perspective to the needs of inmates and staff, and he proposed several changes, he said.
"We need to look at how we are integrating or addressing adults in custody, and preparing them to go out in the community through halfway houses," he said.
And because the prison population is mostly male, women's issues haven't received as much attention as they deserve, he said.
"A lot of time they have children and don't have contact with them anymore. It's similar to males', but it's more prevalent among females. We are trying to find ways to keep that family bond. It's always been male-oriented in the jail atmosphere, but there needs to be more focus on females in custody."
Peterson said he'd also like to see a vitamin regimen adopted to help keep inmates stay healthy.
"It's proven to keep down colds and flu and balancing that would be advantageous to the system itself," he said.
Multnomah County deputies and other jail staff need more attention to their needs from in terms of their physical welfare and mental health, he said.
"If they are not healthy and well, we are not getting the most out of production that we would if they were not being attended to," he said. "Especially in this day and age, there needs to be emphasis on our line staff."
While he's sensitive to the needs of deputies, Peterson said he also knows what it's like to be a member of the Black community improperly pulled over because of their race, which gives him perspective not only in teaching future deputies at the training academy, but overseeing the entire department.
"I've had to deal with that kind of discrimination in the past, just like a lot of Black men growing up having to be fearful of driving and being in different areas," he said.
Homelessness is also a huge concern, Peterson said.
He supports giving more weight to Multnomah County's Homeless Outreach and Programs Engagement, or HOPE program.
The HOPE team goes out in the community to work with houseless people, referring them to service providers and staying engaged with them to build trust, he said, and is "community policing at its best."
The sheriff's department covers a huge area, Peterson said, from Multnomah County's eastern border with Hood River County to Columbia County on the west, including all unincorporated parts of the county and both the Columbia and Willamette rivers, where it heads up rescue operations.
Peterson said his family has been residents of Portland for more than 70 years "since Vanport" and his wife, Leslie has been a leading influence in his life.
"She's was very instrumental in taking care of our son Trey, who had a traumatic brain injury, and is still suffering some effects, but graduated this year from George Fox University with an economic degree," he said.
Peterson said he's looking forward to leading the sheriff's department through the police reforms that people are asking for.
"I want to be part of that. I want to establish community trust," he said.
--Beverly Corbell
Editor's note: The following corrections were made to the story above, fixing some errors from our Sept. 22 issue: Peterson has been employed in the sheriff's office since 1986, currently supervising the county jail system as a commander, not as a deputy sheriff. He is the first Black person to run for the office this election cycle, but not the first Black man or woman to run for the office. Vera Pool ran in 1993, 1995 and 2002 and Mohammad Ra'oof was a candidate in mid 2007 or after. The current sheriff is Mike Reese.