Bringing Opera to Community Spaces
Performances planned all summer long
6/21/2022, 10:22 a.m.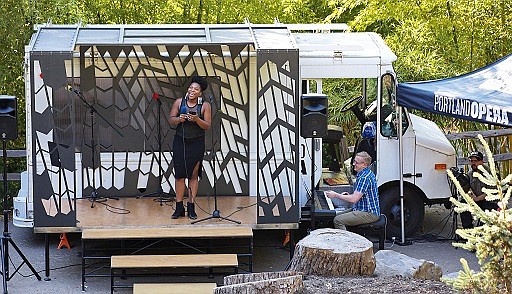 Inspired by Portland's food cart culture, Opera a la Cart is a mobile performance venue that brings live opera performance directly into the community spaces where people gather.
Productions are beginning for summer with performances planned through September at farmers markets, city parks, neighborhood festivals, street fairs, wineries and other public events.
On Sunday, June 26, the Opera a la Cart season begins with performances during Sunday Parkways in the Northeast Cully Neighborhood.
Designed and built by architecture students at Portland State University, the Opera a la Cart features a fold-out stage and a "menu" of operatic specials of the day to be sung by local artists.
You can visit t portlandopera.org for the most up-to-date schedule. Most Opera a la Cart events are free and open to the public, although there are a few ticketed events as well.