The Portland Columbia Symphony Celebrates 40th Anniversary
Final concert performance of the 22-23 season
4/19/2023, 2:15 p.m.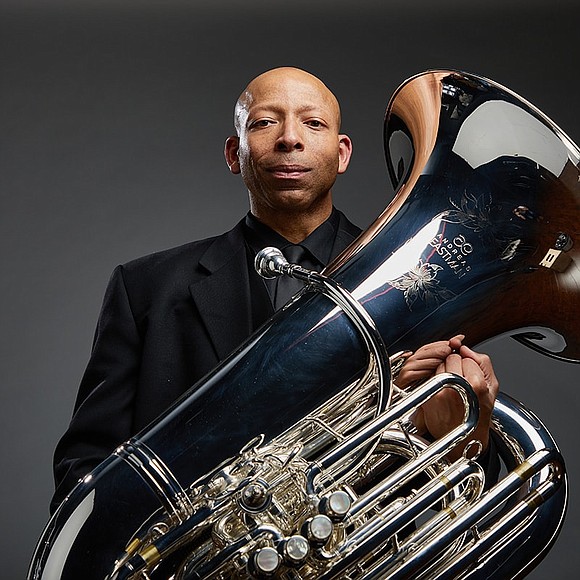 In concerts on May 5
th
 and May 7
th
, Portland Columbia Symphony brings a celebratory 40
th
 Anniversary to a close and once again pairs an iconic masterwork with works by living American composers. Pictures & Reflections adds a local connection as well: renowned Oregon Symphony Principal tubist JáTtik Clark takes center stage in Michael Daugherty's Reflections on the Mississippi. Clark epitomizes the incredible talent found right here in Portland, and PCSO is thrilled to welcome him back to its stages for an uplifting and evocative concert event.
Portland Columbia Symphony's 40th anniversary season has been nothing short of remarkable, with highlights including piano virtuoso Miki Sawada, who brought verve and power to a thrilling rendition of Tchaikovsky's Piano Concerto No. 1, and flutist Brian Dunbar performing the West Coast premiere of Movements for Flute and Orchestra—only the second American solo flute concerto by a Black composer. Additionally, The PCSO Spectacular at the Reser, a reimagined gala concert event this past January, was the most successful fundraiser in PCSO's history. The incredible talents of headliner Alexander Markov and Special Guest artist Jimmie Herrod brought a nearly sold-out house to its feet and helped secure funding for what has been called "a hidden gem of the Northwest."
As the grand finale of PCSO's extraordinary season, the Pictures & Reflections concert presents a captivating program that is sure to send audience members on a vivid journey. John Williams' Devil's Dance from the award-winning film score for The Witches of Eastwick, highlights the symphonic complexity of film music, while Daugherty's Reflections on the Mississippi invites listeners to explore the diverse scenes and emotions of the iconic river through the unexpected virtuosity of a tuba concerto. Modest Mussorgsky's innovative and thrilling Pictures at an Exhibition ties the program together, inviting the audience to experience an art gallery stroll via Maurice Ravel's masterful orchestration of the piano suite, which transforms it into a colorful and dynamic work. 
To further enrich the concert experience and celebrate local talent, Pictures & Reflections will open with a free pre-concert talk by PCSO's very own concertmaster and violinist Casey Bozell. Bozell, who also serves as the concertmaster of Newport Symphony, will offer insights into the history and musical themes of the works, providing a unique performer's perspective on the specific demands of the music the audience will hear. This captivating prelude to the concert not only showcases the wealth of knowledge and expertise within the community but also sets the stage for an unforgettable experience.
As PCSO concludes this landmark season, it remains steadfast in its mission to champion a broader diversity in classical music performance and to provide enriching experiences to Northwest Oregon & Southwest Washington – the ethos behind Great Music, Close-Up. Join the Portland Columbia Symphony in closing out their spectacular season as they continue to showcase exceptional music and celebrate the incredible artistry in Portland and beyond.