Black Rodeo Coming to the Portland Expo Center
Local photographer produces a marquee event to celebrate Juneteenth
6/7/2023, 7:15 p.m.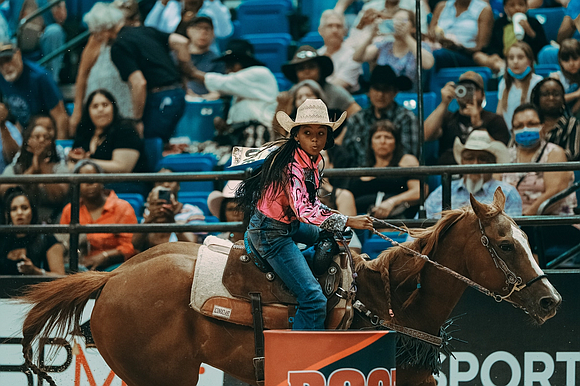 Portland-based photojournalist Ivan McClellan has been going to Black rodeos around the country, documenting the unique culture, elevating stories of the rodeo athletes, and developing lifelong friends along the way. 
What started as a curiosity – with his first visit to a Black rodeo in Oklahoma in 2015 – quickly developed into a passion project, both from a professional standpoint, and a personal one of self-discovery and appreciation of this element of his culture about which he previously knew very little. Attracted to cowboy culture as a young boy growing up in Kansas City, he was blown away when introduced to Black rodeos as an adult. 
Today, McClellan finds himself in a position he'd likely never dreamt of – that of large-scale rodeo event producer. McClellan, along with Councilor Vince Jones-Dixon of the City of Gresham and a team of volunteers, is bringing rodeo back to the Portland Expo Center. On Saturday, June 17, the inaugural Eight Seconds Juneteenth Rodeo will take place there. Doors open at 3 p.m. to explore food, drinks and retail vendors, while the rodeo action starts at 7 p.m. 
The invitational rodeo will gather some of the top competitors from across the country with an emphasis on supporting Black western athletes and educating people on the cultural heritage of Black cowboys and cowgirls. The rodeo will be an inclusive educational and entertaining event that uses lighting, music and top western athletes to create a fresh rodeo platform. It will feature a host of traditional events – including barrel racing, bareback riding, bull riding, mutton busting, steer wrestling and ladies breakaway roping – combined with a wide array of additional entertainment, including a comedy show, music by DJ O.G.ONE, cocktails and more.
McClellan created the Eight Seconds project in 2015 to showcase his photos and stories of Black rodeo athletes and culture. The Eight Seconds project, characterized by iconic photography portraying the American West, quickly gained widespread recognition and coverage by national media outlets.  According to McClellan, the mission of the event goes beyond the actual rodeo. In an effort to create opportunities for young Black Portlanders who want to learn the art of horsemanship, there are five scholarships for a year of horseback riding lessons that will be awarded as a legacy piece of this year's rodeo, to inspire the next generation of cowboys and cowgirls. 
"We think it will be a really inspiring event, to see all these Black cowboys and cowgirls come out in front of a crowd here, inspiring youth and letting them know that this is something that they can achieve in their life if they're interested," he said. Hard work aside, McClellan says the goal is to make it an annual event, and another signature Juneteenth celebration in the Portland area to complement Juneteenth Oregon. "We're planning on doing it for many years to come, evolving it and doing it bigger each year," he said.