Local Teachers Receive Onpoint's Prize for Excellence
Winners will have their mortgage or rent paid for one year and receive $2,500 for their school
6/7/2023, 12:41 p.m.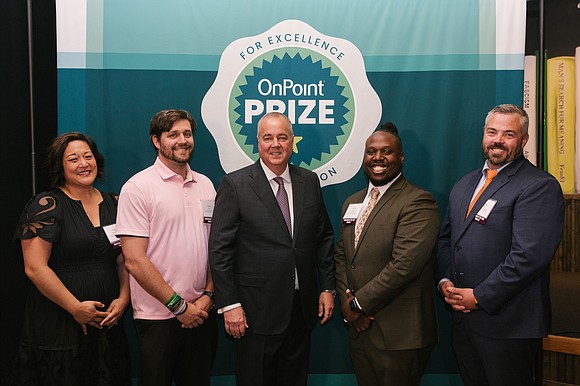 OnPoint Community Credit Union has announced the four winners of the 2023 OnPoint Prize for Excellence in Education Educator of the Year awards. Samuel Platt, principal of Tumalo Community School is the first recipient of the Gold Star Educator award, a category for pre-kindergarten teachers, school counselors, substitute teachers, librarians, or school administrators. Caryn Anderson, fourth grade teacher at Abernethy Elementary School. Lucas Dix who is a sixth through eighth grade media arts and journalism teacher at Rowe Middle School. Willie Williams, ninth through 12th grade history and economics teacher at Roosevelt High School.
The four Educators of the Year will have their mortgage or rent paid for one year and receives $2,500 for each of their schools. In addition, the four runners-up will receive $5,000 for themselves and $1,500 for each of their schools. 
"Educators have a profound impact on their students, as well as their entire community," said Rob Stuart, President and Chief Executive Officer, OnPoint Community Credit Union. "This year's Educators of the Year respect their students as individuals and create educational experiences that truly connect and inspire them. We are honored to recognize these educators and know they will continue to make a difference for their students and our region."
In the 14 years since the OnPoint Prize for Excellence in Education campaign launched, it has awarded more than $650,000 in prizes to 313 local educators and schools. The 2023 campaign awarded an additional $193,000 to 21 more deserving public and private K-12 educators and schools.