Lillard has 71 pts and 13 3s, then gets drug tested
Dame Scores Career-Best
3/8/2023, 2:16 p.m.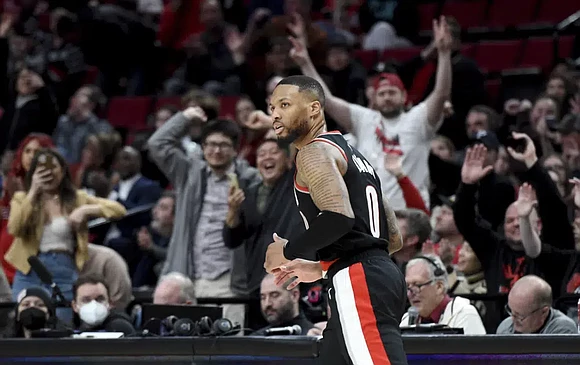 AP- The celebration surrounding Damian Lillard's record-breaking performance was short-lived.
Lillard set franchise and career marks with 71 points — tied for the most in the NBA this season  and 13 3-pointers in the Portland Trail Blazers' 131 -114 victory over the Houston Rockets on Sunday night.
"I enjoy those moments in the game when I'm just going after people," Lillard said, "when I'm in attack mode."
But soon after the streamers fell to the court and the crowd headed for the exits, Lillard was summoned for a drug test. Turns out, the seven-time All-Star who's unafraid of taking a 3-pointer from half court is afraid of needles.
"I know I've got a lot of tattoos, but when you're doing a blood draw, it's different from tattoos. It brought me down from here to the floor," Lillard said gesturing with his hand raised then dropping it.
And Lillard got tested on the night he tied Cleveland's Donovan Mitchell for the most points in a game this season after Mitchell also scored 71 in a win over Chicago on Jan. 2. His 13 3-pointers were also one shy of the NBA record set by Golden State's Klay Thompson in 2018. Thompson's Warriors teammate Stephen Curry (2016) and Chicago's Zach LaVine (2019) also made 13 3s. Lillard broke his own franchise mark of 61 points, which he'd done twice, on a 3-pointer with 4:42 left that also topped his previous career record for 3s, which was 11.
Known for his humility, Lillard was unsure how to mark the occasion.
"I think any hooper enjoys those moments when you're hot, you're in attack mode, you're feeling good," Lillard said. "But it's the stuff afterward that I struggle with, like when I walked off the court, was I supposed to be overly excited, or what?"
In the final minutes of the game, the crowd at the Moda Center was on its feet, phones recording the moment, while chanting "MVP! MVP!"
"It really, really was a masterful performance," Blazers coach Chauncey Billups said. "It was a piece of art. That was incredible."
Even Mitchell took notice. "My mom calls me and says @Dame_Lillard tied your record … you gotta get 72 now," Mitchell posted on Twitter with some laughing emojis.
Lillard left the game with 44 seconds left, tied with Mitchell, Elgin Baylor (1960) and David Robinson (1994) for the eighth-most points scored in a game in NBA history. Wilt Chamberlain owns the league record with 100 for Philadelphia against New York on March 2, 1962, at Hershey, Pennsylvania.
Lillard had 41 points and eight 3-pointers by halftime. It was a career high in a half for Lillard and the most points in a half for any player in the league this season. He had 50 by the start of the fourth quarter. In the end, he made 22 of 38 shots from the floor and he hit on 13 of his 22 3-point attempts. He was also 14 of 14 from the foul line.