Providing 94 Units of Affordable and Family-Centered Housing
Landmark Project Set to Break Ground in Lower Albina
9/6/2023, 11:05 a.m.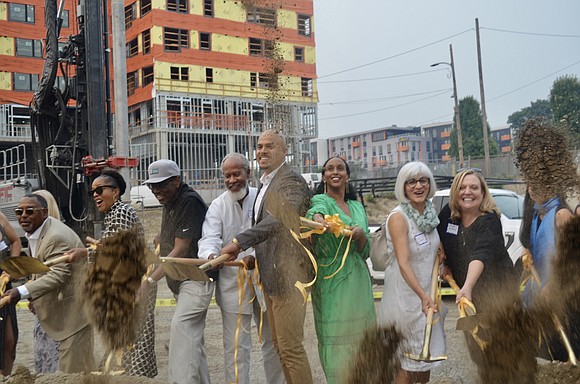 The Albina Vision Trust (AVT) broke ground on its landmark development, Albina One. The project, which has been purposefully designed to counter the intentional displacement of Black people through urban renewal, freeway sitting and long-term gentrification, will provide 94 units of affordable, family-centered housing in the heart of the center city with priority access to displaced Portlanders. Albina One is being developed in partnership with Elden & Co, LEVER Architecture and the project's general contractor, Colas Construction.
Albina One represents the first in a series of large-scale restorative redevelopment efforts in Lower Albina. Residents will enjoy access to vibrant community green space, play areas for children, expansive communal gathering rooms, secure bike parking, and onsite property management and resident services. A partnership with Portland Opportunities Industrialization Center (POIC) and Rosemary Anderson High School will provide community members with culturally specific education, mentoring, family support, employment training and career placement. Joe McFerrin II, POIC's President  & CEO, notes that the organization "is honored to contribute to the purpose of Albina one and excited to assist families on their path to thriving"
Residents of Albina One will also be situated but a stone's throw away from the eastern bank of the Willamette River. The development will also enjoy access to multimodal transportation and is less than a mile away from a grocery store, Harriet Tubman Middle School, Lillis Albina Park, Dawson Park, an array of commercial activities and several churches with historic ties to Portland's Black community. Per Chandra Robinson of LEVER Architecture, "Albina One was designed around the concept of joy. The colors selected for the facade represent shining light, and the eminence of the Black community in Portland. The art panels on the exterior and murals on the interior will feature local art and tell the story of the community. Finally, the homes themselves are bright and beautiful and each looks out to the inspiring views of Portland's West Hills, Mt. St. Helens, Mt. Hood and the expansive garden space designed to support community, health and wellness. LEVER is proud to be part of this incredible project."
Several funding partners have played an active role in bringing the community-driven vision at the heart of Albina One to life. Grantors include the Metro Council, Portland Housing Bureau, Oregon Community Housing Services, US Bank, Chase Bank, Enterprise, Portland Clean Energy Fund, Hillman Family Foundation, Oregon Community Foundation, and Meyer Memorial Trust. The project also was made possible by a direct legislative allocation awarded by State Representative Janelle Bynum via the American Rescue Plan Act (ARPA). In the words of Winta Yohannes, AVT's Executive Director, "Breaking ground at Albina One represents a seminal moment for Black Portlanders who have spent generations fighting to reclaim, reimagine and rebuild a loving home in the heart of our city. And it's just the beginning."