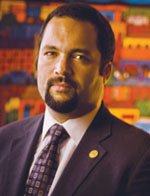 Ben Jealous is former president and chief executive officer of the NAACP, and a partner at Kapor Capital, a social impact investing firm that invests in Pigeonly and Jail Education Solutions.
Stories this photo appears in:

Enter the social justice startups
As the long-overdue movement for broad criminal justice reform continues, we cannot forget the importance of what happens, or does not happen, inside jails and prisons. We need to improve our inside game as well as our outside game to ensure jails and prisons work, and these justice tech startups can help make that future come faster.
Increasing trust between police and the community
What is community policing? In the wake of increased shootings in Ferguson and around the country, there has been a renewed public interest in the role of police, the extent of police brutality, and the prevalence of racial bias.
Our stronger, more inclusive America
"Two decades ago, as a young organizer in Mississippi, I learned that there are only two types of temporal power: organized people and organized money. I also learned that in a democracy, the people can win every time - but only if we are organized. Today, when I reflect back on my half-decade at the helm of the NAACP, I am deeply proud of what we have accomplished together as we organized our communities." --Benjamin Todd Jealous
My grandma's words have guided me
" In my time as an organizer, I have been guided by the words of many people - activists and authors, colleagues and friends. But the most powerful lesson I ever received about the struggle for civil and human rights came in 1993, when my grandmother taught me that history could move in two directions at once." -Benjamin Todd Jealous
Rededicating ourselves to the fight
"I joined over 150,000 people at the 50th anniversary of the March on Washington. It was a powerful moment that showed us how Dr. King's dream is still alive, yet reminded us how far we still have to go to see it fulfilled. The simple backdrop of last month's event reminded us how much has changed in 50 years. "-Benjamin Todd Jealous
Getting college athletes prepared for victory in life
Less than 1% of NCAA basketball players get drafted by NBA teams, what happens to the legions of undrafted young people?