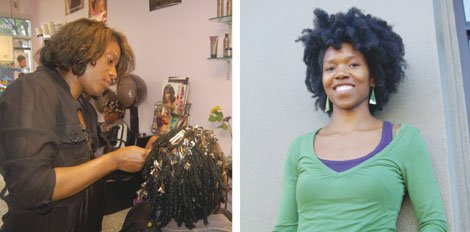 Roslyn Graham (left) focuses on the locs of one of her customers at Shape It Up salon in northeast Portland. A licensed business owner, she supports a new law passed last week by the Oregon Legislature that will loosen the restrictions on natural hair styling, but has mixed feelings about the possibility of increased competition. Amber Starks (right) will be able to braid, loc, and twist hair in the Oregon workplace without the burdensome requirements of a cosmetology license thanks to her advocacy of the new law easing restrictions.

Stories this photo appears in:

Practitioners of natural hair get restrictions eased.
Oregon joins 22 other states in loosening restrictions on natural hair care.