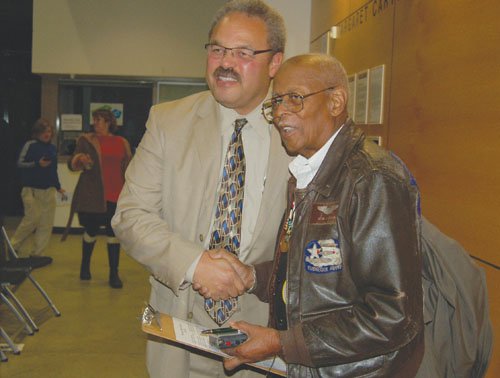 Alexander Jefferson, 92 (right), a member of the historic Tuskegee Airmen joins State Rep. Lew Frederick during a Veterans forum at Portland Community College's Cascade Campus. Jefferson recounted several moments of racism and countless war deaths during his tenure of service in World War II, but the Detroit-native still heralds the United States of America as "the greatest country in the world."
Stories this photo appears in:

Tuskegee Airman recalls horrors of World War II
"War is hell," that was the constant reframe from Alexander Jefferson, one of the last living members of the historic all-black military air-squad, the Tuskegee Airmen. During a veterans forum at Portland Community College's Cascade Campus in north Portland, Jefferson shared his World War II accounts of seeing heaps of human bodies set aflame, friends being torn away by gunfire before his eyes, and even becoming a prison of war where worms and sawdust were not an uncommon part of his diet.