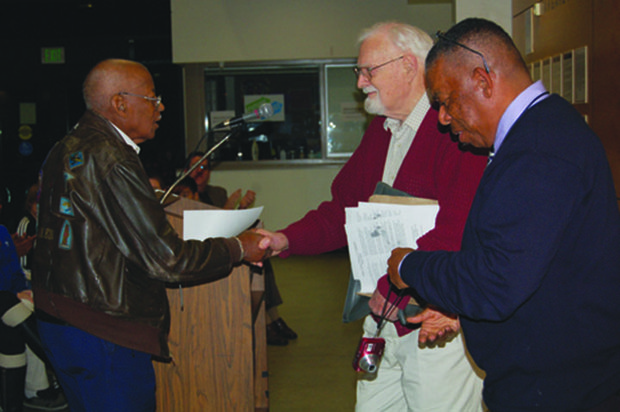 Former Tuskegee airman Alexander Jefferson, 92, (left) and longtime Portland educator Bob Gerber, 91, shake hands while reminiscing on their World War II service during a veterans forum at Portland Community College in north Portland. Gerber said his own life was saved by Jefferson and three other members of the all-black Tuskegee squadron after his plane was attacked by German troops. Gerber shed tears recounting the experience, saying the heroism by the black fighter pilots forever transformed his views on race.
Stories this photo appears in:

Tuskegee Airman recalls horrors of World War II
"War is hell," that was the constant reframe from Alexander Jefferson, one of the last living members of the historic all-black military air-squad, the Tuskegee Airmen. During a veterans forum at Portland Community College's Cascade Campus in north Portland, Jefferson shared his World War II accounts of seeing heaps of human bodies set aflame, friends being torn away by gunfire before his eyes, and even becoming a prison of war where worms and sawdust were not an uncommon part of his diet.