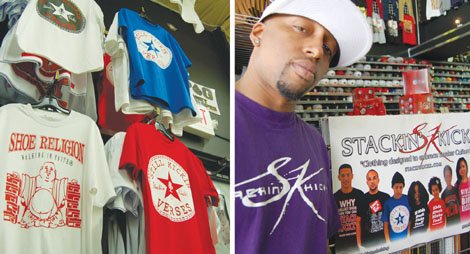 David Jefferson's apparel brand, Stackin' Kickz, has become one of the most recognized start-up fashion lines in Portland. The longtime Portlander says the brand was birthed out of his fanatic love of the "sneakerhead" culture.
Stories this photo appears in:

Portland entrepreneur starts own fashion line
Setting foot in the city of sin turned out to be the start of a dream for one Portland man. A 2009 visit to Las Vegas for a street wear fashion tradeshow shifted David Jefferson's whole career path. Jefferson says the show was the inspiration he needed to take him from being a local retailer of various big name brands in urban fashion to his newfound passion, selling his own clothes.