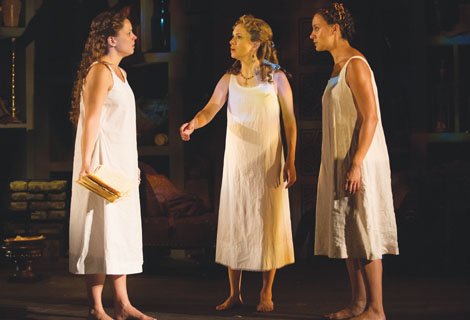 Jesusa (Vivia Font), Manuela (Alejandra Escalante) and Tomasita (Sabina Zuniga Varela) discuss a radical course of action in 'The Tenth Muse,' a play about a 17th century nun who was regarded as the first published feminist of the New World, now playing at the Oregon Shakespeare Festival.
Stories this photo appears in:
Our Opinionated Judge examines 'The Tenth Muse'
The play centers on three young women who find themselves taking refuge in the convent: Jesusa, a Mestiza (half-Spanish and half Amerindian) who has come to care for an ailing nun; Tomasita, a timid Nahua Indian who has come to serve in the kitchen; and Manuela, a noblewoman whose arrival is occasioned by circumstances that are not immediately explained. The three are relegated to the basement storage room and are instructed not to open a locked armoire that sits in the corner. Oppression and class fuel the story.