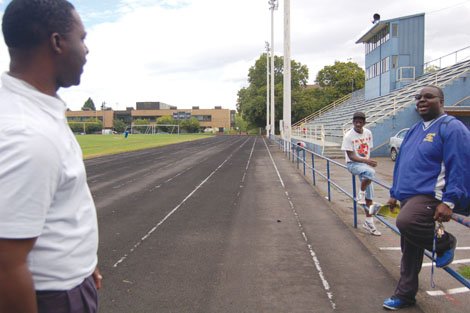 Marshall Haskins is excited about his new post as athletic director for Portland Public Schools. Less than a month into the position, Haskins has already proposed several ideas to raise the profile for a successful sports program that advances education as well.
Haskins (left) is pictured here taking a stroll along the Jefferson High School track and football field in north Portland where he is greeted by the school's wrestling coach, Montrial Brazzile (closest to the right) , and others.
Stories this photo appears in:

Haskins looks to re-energize school programs
Portland Public Schools recently named community fixture Marshall Haskins the new athletic director of the district and he has already come through the door shaking things up. Less than a month into his post he put forth some radical proposals that however unofficial and unlikely to be put into play, create the thing Haskins desires most at the moment; dialogue.