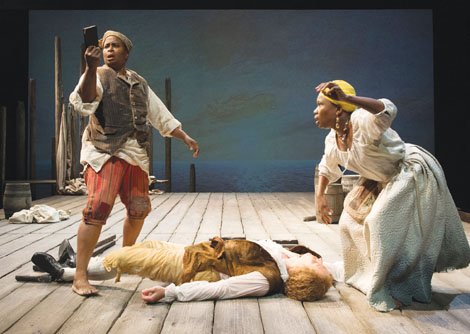 Dembi (Kimberly Scott, left) and Adjua (June Carryl) find a book in the pocket of the man (Danforth Comins) they've pulled from the sea in 'The Liquid Plain,' now playing at the Oregon Shakespeare Festival in Ashland. Photo by Jenny Graham.
Stories this photo appears in:
Oregon Shakespeare Festival wades in where angels fear to tread
"It's hard to imagine a setting for a play more challenging and complex than the slave trade. It's a history that we as a culture carry in our collective DNA; our very economic system was built, quite literally, on the backs of human beings who had been kidnapped and transported under unimaginable conditions into lives that explicitly denied their status as human beings. We have barely begun to scratch the surface in our collective consciousness about the implications of this past for our present. The Oregon Shakespeare Festival has waded in where angels fear to tread with a new play this season, "The Liquid Plain."